In a press conference held yesterday, the organisers of the UIM F2 Tønsberg Båtrace announced their pre race entry list for round 4 of the UIM F2 World Championship.
The press conference was hosted by the Mayor of Tønsberg, Petter Berg together with the Habour master Per Svennar, event partners and the organising team.
Mayor Berg stated that, he will continue to Support Tønsberg Boatrace and spoke about the positive financial benefit the Event had on the city.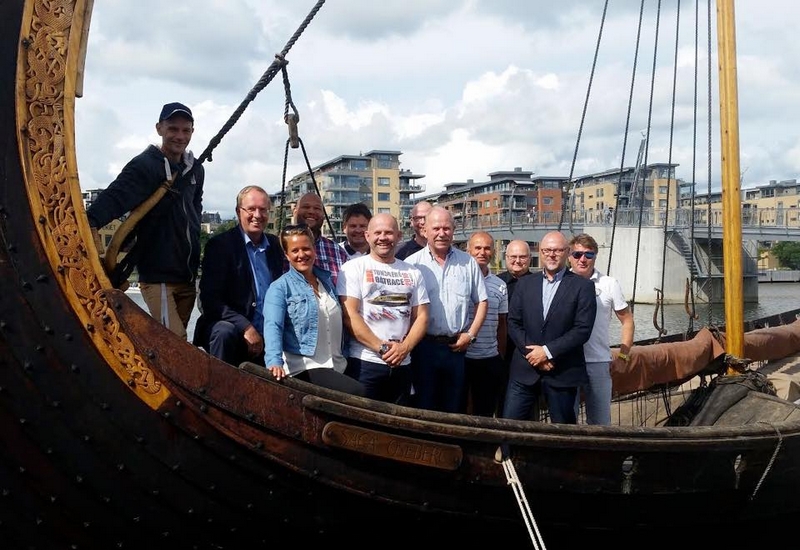 Frode Sundsdal, Event Director and a UIM F2 competitor commented,
With one week to go, I feel that our crew is right where we should be. We have all the same key officials – and that's a great feeling. The event is growing, the support from the city and county is fantastic – looks like I will even enjoy the race as a competitor.
Joyce Christine Andersen will take over the responsibility of Event Director when Sundsdal hits the water in competitive action,
We are blessed with a strong club, Re MotorSport, and good support from the F2 family, city and county so am looking fwd the event. However, Without all the volunteers we could not have done it.
Otto André Winterstad from event partner EDH Utelei enthused,
This is our third year of supporting the event, we have even entered our own UIM F2 team, EDH Racing. It's been a great trip so far and we have high hopes for the on water activity, let's hope Frode can copy the success from the last race in Tvedestrand and build on it.
One notable absentee from the pre race entry list was 2015 UIM F2 Silver Medalist, Matt Palfreyman. He told me last night that it was 'doubtful' that he could put a boat together in time after seriously damaging his Baba hull at the last round, also held in Norway.
Tønsberg UIM F2 entries
1 Pierre Lundin   SWE
2 Johan Österberg   SWE
3 Owen Jelf   GBR
5 Rupert Temper   AT
6 Ola Pettersson   SWE
9 Mette B. Bjerknæs NOR
10 Oskar Samuelsson  SWE
11 Bimba Sjöholm   SWE
12 Harri Lehti   FIN
19 Stefan Hagin   GER
20 Konstantin Ustinov  RUS
21 Erik Edin   SWE
22 Roman Vandyshev   RUS
35 Rashed AlQamzi   UAE
36 Mohamed Al Mehairbi  UAE
41 Edgaras Riabko   LT
44 Alberto Comparato  ITA
45 Duarte Benavente  PT
46 Stian Slaattedalen  NOR
50 Nick Bisterfeld   GER
51 Uvis Slakteris   LAT
54 Daniel Segenmark  SWE
55 Frode Sundsdal   NOR
60 Christian Carlsen  NOR
77 Tobias Munthe-Kaas  NOR
88 Pal Virik Nilsen  NOR