Powerboat Racing World covered the UIM F2 European Championship in full before, during and after the event, here are Nikki Drummond's reports on F4 and GT15.
Last weekend Powerboat GP and Stewartby Powerboat Racing Club hosted 50 teams from 11 European countries for the 2016 UIM European F2, F4 and GT15 Championships.
UIM F4 European Championship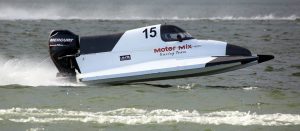 Thirteen teams from 8 different countries travelled to battle for the UIM F4 European Championship crown amongst the contenders, were 2016 World Champion Juho-Matti Maninnen from Finland, Latvia's Nikita Ljics and British Contenders Sam Whittle and Ben Morse all looking to put in a viable challenge for the European Crown.
It was the reigning European Champion Maninnen that set the bar setting a sub 57 second time on his 7th lap claiming him the all important pole position 1.2 seconds faster than Sweden's Magnus Sedeholm (below) in second. Ben Morse was the highest placed Brit in qualifying claiming third on the grid ahead of the formidable presence of Latvia's Nikita Ljics.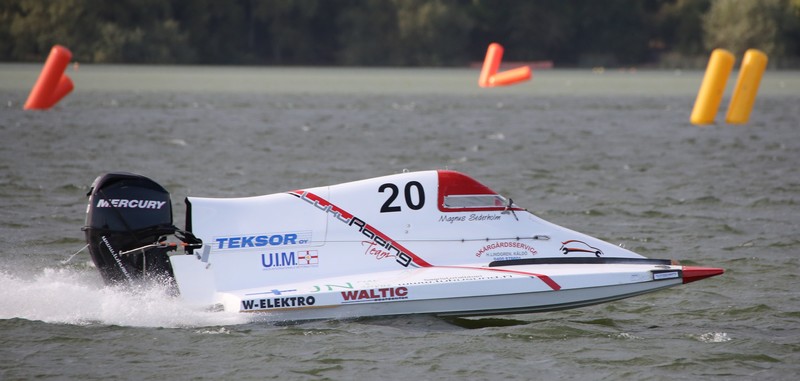 Flying form from the Finnish World Champion would see him untouchable in all three heats leading the way from start to finish in a flawless performance to see him claim the Double World and European crown for 2016. Meanwhile Magnus Sedeholm, Ben Morse, Nikita Ljics, along with Finland's Kalle Viippo and Sweden's Morgan Jernfast battled for the silver and bronze medals. Heat 1 saw Sedeholm take second with Brit Ben Morse in third.
Heat two saw a repeat performance and with worsening conditions and fading light the championship would be decided on just three heats.
The final heat saw Magnus Sedeholm secure another second place finish behind Manninen to claim the silver medal and despite a late attack from Morgan Jernfast taking third Ben Morse (below) battled home to finish in 4th and claim the European Bronze Medal.

Britain's Sam Whittle and Rob Veares were both plagued by problems all weekend seeing them both well off the pace.
Meanwhile Brit Ben Jelf finished a strong 6th in his first international catamaran competition.
UIM GT15 European Championship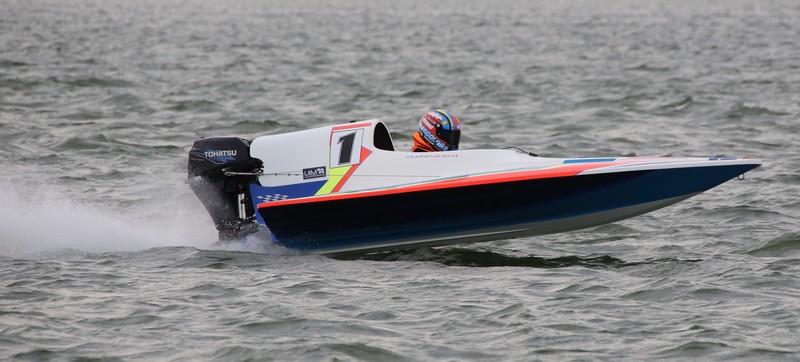 15 youngsters lined up to challenge World Champion Stefan Arand (above) and battle for the European crown.
First to lay down the gauntlet was Sweden's Adam Wrenkler (below) who claimed pole position 11 hundredths of a second faster than the World champion in qualifying.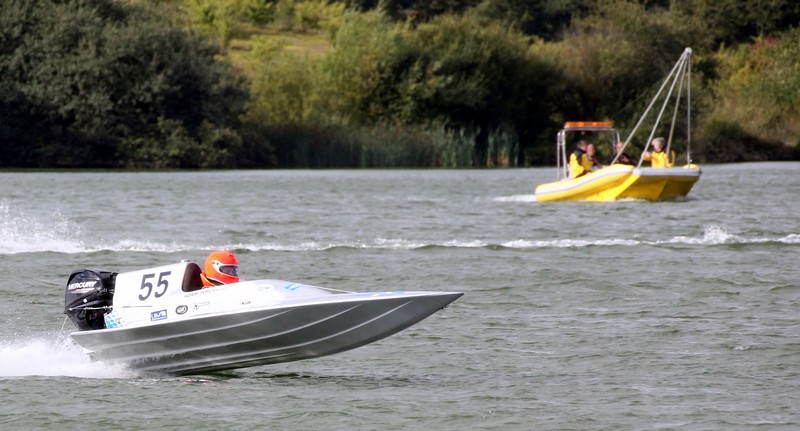 Thomas Mantripp was the highest placed Brit amongst the fleet in qualifying in 4th place and with just over half a second separating the top four boats the action was set to be intense.
As the start lights went out for the start of heat 1 the fleet leapt into action powering towards the first turn Wrenkler took full advantage of his pole position and as the spray settled rounding the first turn he had the World Champion hot in his wake with Britain's Thomas Mantripp chasing both of them down.
Wrenkler led from start to finish leaving Arand to settle for second and Mantripp to claim third.
Heat 2 saw a determined Arand set on claiming back the lead.
Conditions were less than perfect for the 10-16 year old powerboat racers but they all focused and despite a couple of near misses as Brits Harvey Smith and Jonathan Brewer both being caught by the wind and nearly heading skyward the youngsters all brought their boats home safely Arand claimed the lead in heat two and despite trying to pass his rival at every turn Wrenkler was forced to settle for second with Mantripp once more claiming third.
Racing 4 heats with the best three results to count Estonia's Stefan Arand went on to dominate in heat three and four to claim the European Crown for the second consecutive year.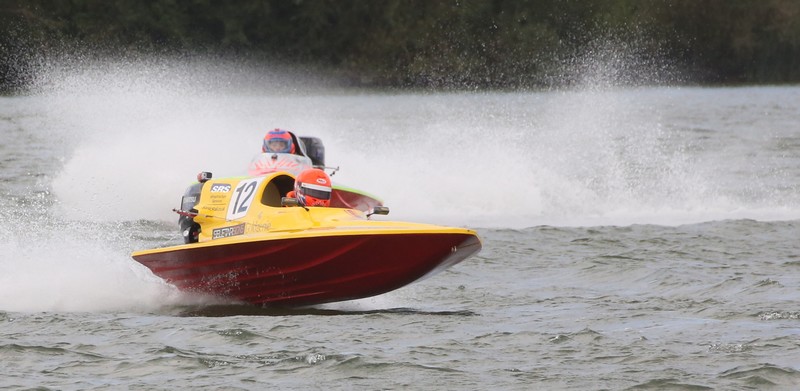 Despite the grit and determination shown by Thomas Mantripp (above) he couldn't pass Sweden's Adam Wrenkler and was forced to settle for the Bronze medal with Wrenkler claiming the silver medal.
Fourth place went to Estonia's Georgi Iljin and claiming fifth was Britain's Jonathan Brewer working his way up from his 12th qualification place.
Powerboat GP promoter Jason Brewer reflected on a taxing and tiring weekend;
There have been several times this weekend when we thought we may not see champions crowned.
There have been delays out of our control and the one thing you can't control is the weather.
Firstly I'd like to congratulate our Champions, and Uvis Slakteris, Juho-Matti Manninen and Stefan Arand who all put in fantastic performances.
I'd like to also thank all the competitors and teams that have travelled to make the event happen.
It was a long weekend for everyone but we got there in the end.
He continued;
I have to say thank you to all the officials, volunteers and safety crews that have put in hours of dedication and hard work before, during and after the event without them quite simply the event wouldn't have happened.
Photos: Fred Emeny