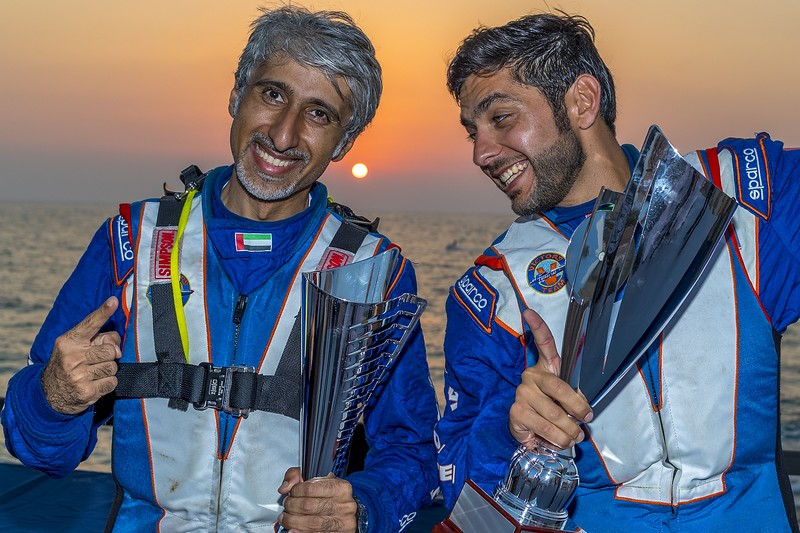 Salem Al-Adidi and Eisa Al-Ali continued the Victory Team's dominance of XCAT Racing when they claimed a 6th World title for the Dubai based outfit today.
Al Adidi told Gulf News:
This is too surreal at the moment.
Maybe the feeling of being world champions will sink in as time passes by.
It has been an incredible first season for us and I want this dream to continue for both of us.
He continued:
We were clear on our strategy, and that was to ensure boat number 8 [Team Australia] doesn't pass us.
It was the world championship that we were looking forward to and today we have got it.
The XCAT World Championship was organised this year by the international governing body of powerboating, the Union Internationale Motonautique (UIM) after the former promoter the World Professional Powerboating Association (WPPA) stood down from running the series earlier this year.
3 venues in China and this weekend's decider in Dubai made up the 2018 World Championship.
Team Australia's Brett Luhrmann and Pål Virik-Nilsen gave Victory one of the hardest title fights they have had in many in a year, although in the end, it was 'as you were'.
Victory Team – XCAT Roll of Honour
2017 – Victory 3 / Salem Al-Adidi and Eisa Al-Ali
2016 – Victory 3 / Arif al Zaffein and Nadir bin Hendi
2015 – XDubai 3 / Arif al Zaffein and Nadir bin Hendi
2014 – Fazza 3 / Arif al Zaffein and Nadir bin Hendi
2013 – Fazza 3 / Arif al Zaffein and Nadir bin Hendi
2012 – Fazza 3 / Arif al Zaffein and Mohammed al Marri