Victory Team's Kevin Reiterer will be wary of looming threats as the bunch of world-class riders head to Sharjah for the fifth round of the 2019 UAE International Aquabike Championship this weekend.
Scheduled to be held at the picturesque Al Khan Lagoon on Friday and Saturday (February 22-23), more than 60 riders from across the UAE and beyond have confirmed for this race that is being held under the auspices of the Sharjah International Marine Sports Club.
Reiterer, who has several fond memories on the waters of the lagoon along Al Khan, will be looking forward to adding some more winning moments.
The last time the 25-year-old Austrian was in Sharjah, he had been crowned the world champion in the Ski Division GP1 category.
This weekend will be no different for the Victory Team rider as he tries to stay away from former ten-time world champion from France, Steven Dauliach alongside another two challengers, Raphael Maurin of France and United Kingdom's Christopher John Wilkinson.
Reiterer is at the top of the standings in the Ski Division GP1 with 189 points, followed by Dauliach with 159 and Maurin and Wilkinson with an identical 152 points.
Reiterer commented:
The pressure is definitely on me to perform and increase on the lead at the top of the standings.

I really want the pressure to get to me.

My job as a sportsman is to represent Victory Team and do that best that I can.

We have a wonderful team backing us at all times and I am confident we will be able to translate this performance in Sharjah into another world title.
Ten-year-old Suhail Rashid Al Tayer will be the other Victory Team rider trying to consolidate his place at the top of the standings in the Ski Junior GP3.2 class.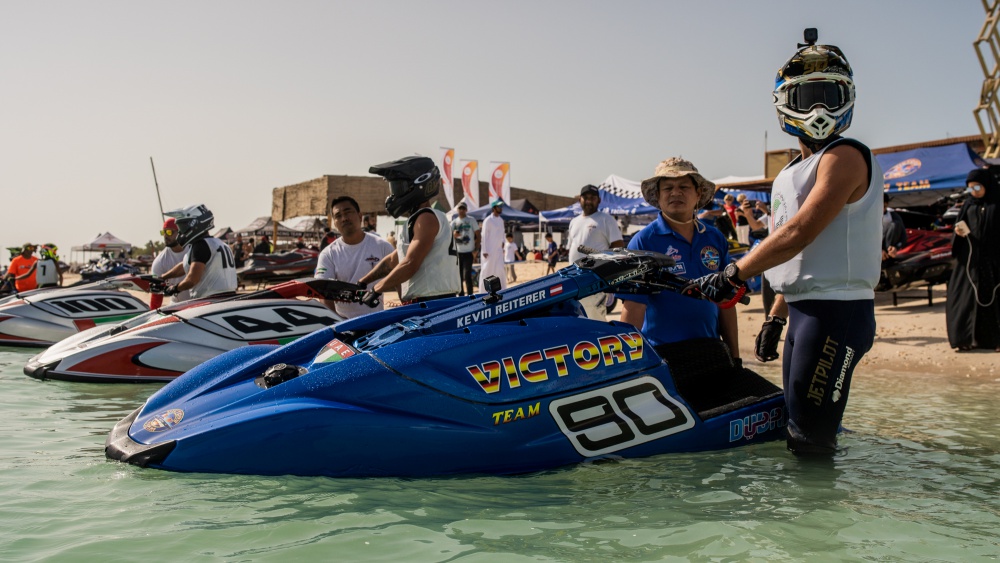 Currently at the top of the standings, the Victory Team Marine Academy trainee is just two points clear of Kuwait's Faris Ibrahim Ramadhan (175).
Reiterer said of his young team member:
Part of my job is to guide these youngsters and I am confident Suhail will do enough to stay away from his challengers.

He is turning out to be a talented kid and I hope he can continue in the same manner and bring glory to the UAE in the future.
After this week's fifth round, the sixth round of the 2019 UAE Jet Ski Championship will be held at the Mercato Beach in Jumeirah on March 2 followed by the seventh and final round in Abu Dhabi on March 8.