Sam Whittle's BaBa hull is now sporting the colours of Sami Seliö's Sharjah Team.
The boat will be on display at ExCeL London next week at the World Travel Market, an exhibition that enables the growth and development of the global travel industry.
Whittle's boat will take pride of place on the Sharjah Commerce and Tourism Development Authority (SCTDA) stand.
SCTDA aims to promote the Emirate of Sharjah as an Ideal Family Tourism Destination at local, regional and international levels in line with the Sharjah Tourism Vision 2021, which aims to attract 10 million tourists by 2021.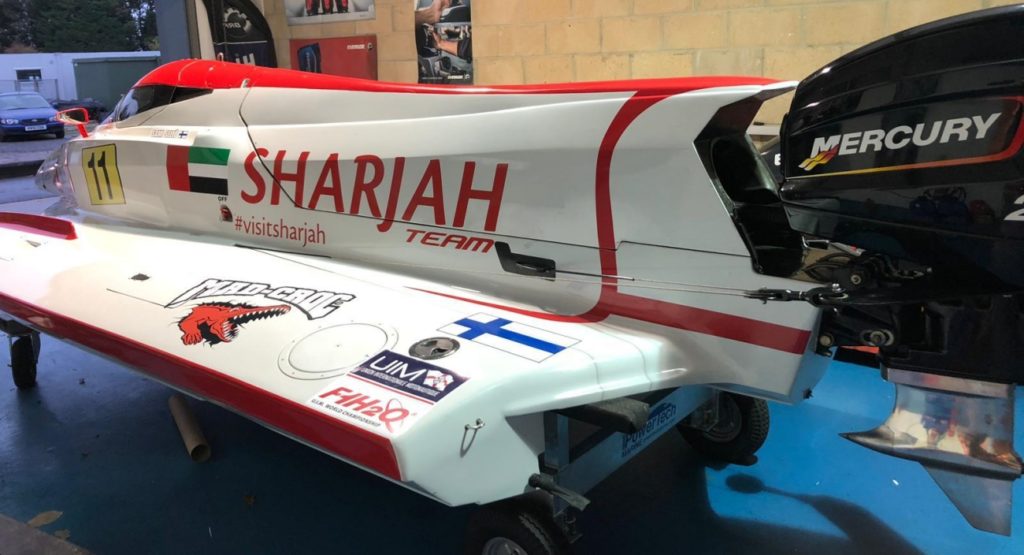 Sharjah is familiar to many powerboat racing followers as it has hosted many F1H2o races and will provide the backdrop to the World championship decider between Shaun Torrente and Jonas Andersson in December.
The Emirate signed up with Sami Seliö last year to support his racing team and youth development programme and of course was seen racing by ExCeL during the 2018 F1H2o Grand Prix of London.
World Travel Market
ExCeL London, Royal Victoria Dock, 1 Western Gateway, London E16 1XL
Tues 5 Nov 2019: 10:00 – 18:00
Wed 6 Nov 2019: 10:00 – 18:00