When the largest field of Formula 2 drivers seen this year head out for qualifying, at the Tonsberg round of the UIM F2 World Championship, they should all cast their minds back to last year's event and remember that the race form 'guide book' shouldn't always be relied upon when looking for a likely candidate for the pole position spot.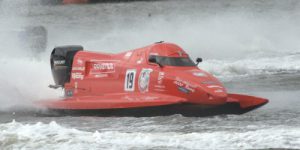 Taking nothing away from his outstanding lap around the tight, tricky course, Stefan Hagin's name would probably not have been at the top of many people's list for that number one spot in Tonsberg, especially against the all conquering, vastly experienced Swede Pierre Lundin, who had been making a habit of posting quick laps when he needed to.
So can Hagin recreate that moment of magic?
If you look back to the first time he drove his brand new Molgaard hull in anger, racing on the narrow Mosel River course in Brodenbach, he beat a reasonable quality field to pole position. In testing before that German Formula 2 Championship Hagin said his first impressions about the feel of the boat were very, very good;
The changes Christian Molgaard made over the old boat brought significant improvements in driving and cornering. We have proved that we are on the right track with the new boat and can now concentrate on the World Championships.
When it came to the opening round of the 2016 F2 season, Hagin once again showed he had the speed after qualifying third fastest for the Finnish Grand Prix but like so many of the drivers, his weekend didn't go to plan after a competitor drove into his side.
Even with the hole in the boat, it was still quite good and I felt comfortable in third place. Unfortunately, the propeller shaft snapped but I know that a World Championship is not won in the first round.
Arriving in Campione with the paint on the Molgaard barely dry, he once again produced yet another quick lap this time around Lake Lugano, the venue for the second round of the World Championship. Starting from fourth on the grid his weekend soon turned sour, when his power-assisted steering failed.
At almost 140kg it's almost impossible to steer that Mercury Optimax engine without any help. I was losing about six seconds per lap, so that was it game over.
With his race team unable to source replacement parts in time for the Tvedestrand event, Hagin's focused has now switched to some 'unfinished business' to attend to in Tonsberg.
Looking at the Championship table all I need is a good top ten finish and I'm right back in the mix, my season is not yet finished.
Sat at the top of that table is a driver that is also competing in the latest creation from the Molgaard factory but perhaps that's where the similarity ends. At just two years younger that Hagin, Erik Edin is now the man to catch in this year's title chase.
Edin, like Hagin is no stranger to Molgaard hulls, having spent last season trying to get to grips with the ex-Erik Stark world championship winning hull.
After last season I now feel that the teamwork has fallen into the right place. We are finally starting to feel secure in this class, so it's now time to give it everything and go full out.
If further proof was needed, then the young Swedish drivers lap around the Peurunka circuit to secure pole position for the Finnish Grand Prix would certainly demonstrate that he is in confident mood right now.
All ready in Finland we showed that we belong to the top by first taking the pole and then the lead in the race.
Not everything ended happily though after I took on a buoy and lost.
With his fellow county-man Lundin disqualified from the race and championship rival Matt Palfreyman also coming away with no points, picking up those four points for a seventh place finish could prove to be extremely valuable.
It wasn't long before Edin was back on the podium after yet another gutsy performance, this time battling with the young Italian driver Alberto Comparato for third place in Campione.
His best was yet to come though when he once again took pole position, this time at the Tvedestrand race. From the moment the start lights went out he knew that he could out race Lundin and secure his first ever F2 World Championship victory.
Now three races are done and I'm in the lead of series after winning in Tvedestrand.
The competition is tough and what I did there is what I need to continue to do. Make sure I take pole and then control the race.
Like Hagin, Edin's Molgaard hull is still very new and over the last few weeks his team have been using the time wisely to prepare for Tonsberg.
It's been four weeks since Tvedestrand but we have not been sleeping. We have been out regularly testing, developing both the boat and also a new driving style as we aim to hold onto the lead in the World Championship. We are all very excited about the Grand Prix that remain and we will do everything we can to bring home the gold medal, after all no other nations has tasted F2 World Championship victory since 2010 and I'm not about to let that change.
Before the racing gets under way there will be an official opening ceremony at 18.00 on Friday evening.
This will be followed by the mandatory Speed Run and Match Race right in the heart of Tonsberg, where those in the packed out restaurants lining the harbour will see whether Rupp Temper can once again come away with all the prizes.