Ten of the 11 XCAT teams seized the opportunity to take to the water for the first practice session on Friday in Weihai, China.
It was a session to forget for Lady's Spain's Roberto Lo Piano and Andrea Comello, who flipped the 46 boat at the end of a two-kilometre straight on their third lap. They were unharmed in the incident and the boat was towed back to the pontoon.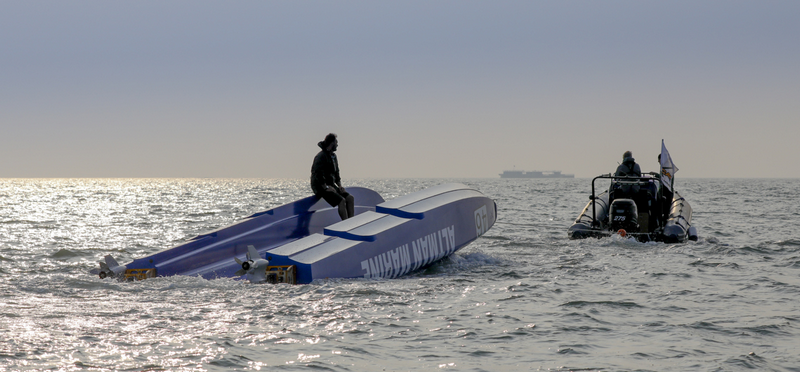 Andrea Comello commented on the accident:
At the moment of turning we suddenly lost grip in the back, the boat spun and flipped over.
Luckily we are fine, but we still have to evaluate the damages on the boat.
The cowlings are broken, but the main issue is if water got into the engines.
We have to work hard, probably all night, in order to make sure we can be in the water tomorrow for pole position.
Arif Saif Al Zafeen was reunited with former Victory Team partner Nadir Bin Hendi, who had replaced Scott Williams.
The pairing topped the times in Al Wasl with an 11th lap of 2min 28.449sec during a marathon stint of 16 laps on the course.
Nadir bin Hendi, who only arrived in China this morning, credited his team:
I can't take the merit of this result, it's a team work.
They are all amazing.
Of course having raced and won so many times with Arif did help.
We are two drivers but one brain.
I hope tomorrow we can be competitive, and on this race course I think it will be an interesting battle with many other teams.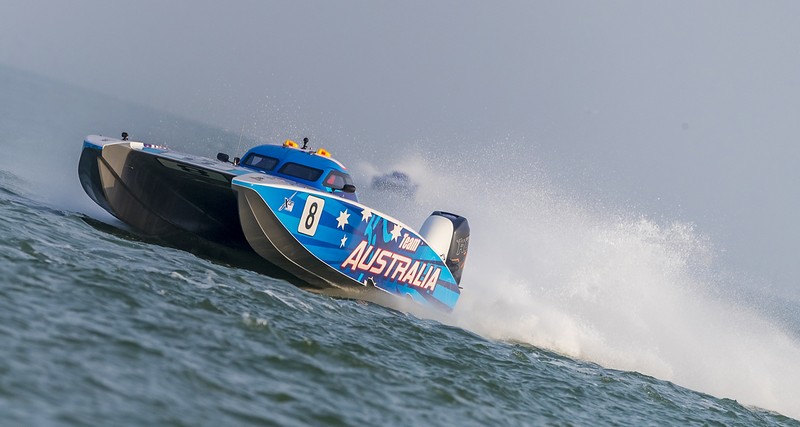 The Blue Roo and Victory 3 were second and third, while Team Abu Dhabi ran for just six laps and were registered in fifth position, behind Weihai-China, with a best time of 2min 32.669sec.
Photos: Raffaello Bastiani