The 2017 UIM XCAT World Championship heads to Weihai this weekend for the third and fourth races in the four-round, eight-race series.
Races on Saturday and Sunday will take place in Nanhai New District Bay and offer the first offshore challenge of this year's series after the opening two races took place on an inland lake in Zhengzhou.
The Victory Team's Salem Al-Adidi and Eisa Al-Ali won both of those races after leading from start-to-finish and arrive in Weihei City with a 10-point advantage over Team Abu Dhabi's Rashed Al-Tayer and Majed Al-Mansoori.
Australian Brett Luhrmann and Norway's Pal-Virik Nilsen rounded off the podium places on race two in Zhengzhou and they are only 22 points behind the leading Dubai boat in third place in the points' standings, with Caccia Engineering, 222 Offshore and the Fujairah Team inside the top six after a quarter of the races in the new UIM-sanctioned series being promoted by Baia Blù D'Oriente (BBDO).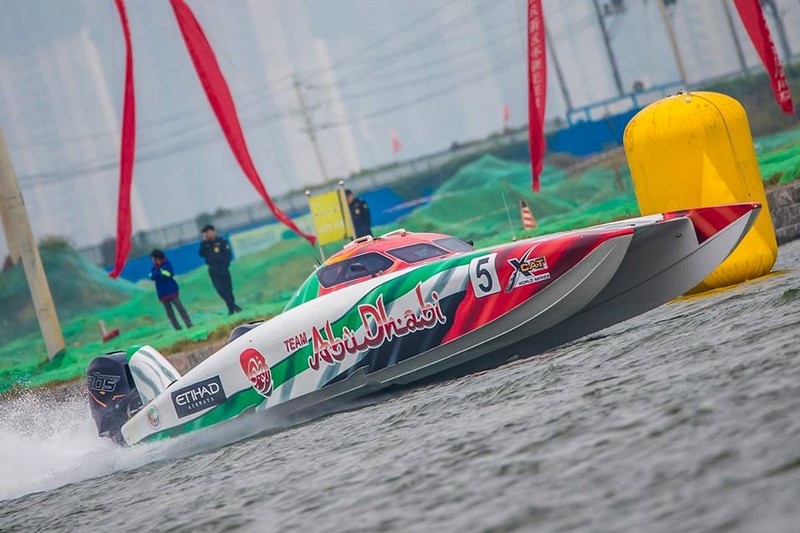 Team Abu Dhabi general manager Salem Al-Remeithi commented:
The XCAT races come thick and fast over the space of three weeks in China and then we finish off in Dubai at the start of December, so it was important that there was no damage to the boat in Zhengzhou which could have been very costly for the championship with only a handful of days between the two rounds.
Rashed and Majed have begun well and it's a case of keeping up the momentum and aiming to beat the Victory Team and try and take the win.
Weihai is a city in China's eastern province of Shandong and acts as a major seaport and it borders Yantai to the west and the Yellow Sea to the east.
Formerly known as Weihaiwei, it was established in 1949 after the Communist revolution and acts as a major fishing centre and trading hub with its close proximity to South Korea.
The weekend's formalities get underway with technical scrutineering, registration and team briefings today and the on-course action gets the green light with official practice from 13.30 hrs on Friday.
Pole Position qualifying takes centre stage from 10.00hrs (local time) on Saturday morning and the first of the two Weihai races fires into life at 14.00hrs. Further free practice is permitted on Sunday morning and the second race takes place at the similar time of 14.00hrs (local time) on Sunday.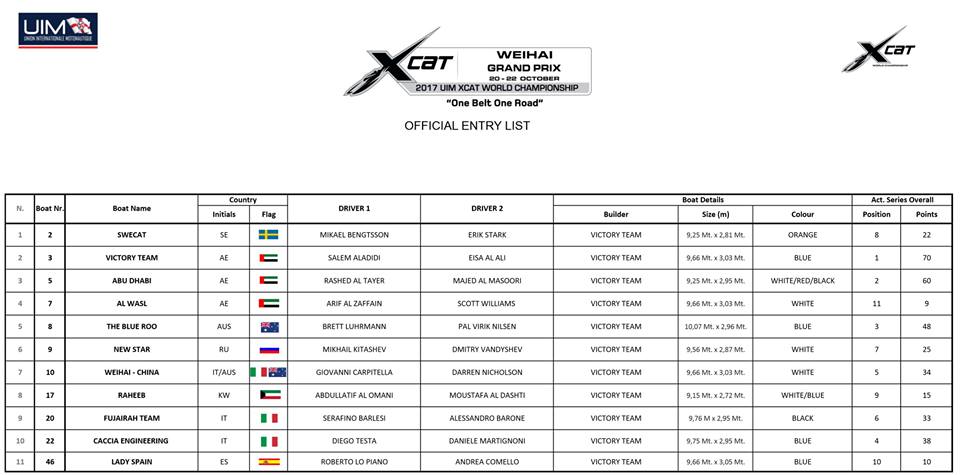 2017 UIM XCAT World Championship – standings after race 2 of 8:
1. Victory 3 – Salem Al-Adidi (UAE)/Eisa Al-Ali (UAE) 70pts
2. Team Abu Dhabi 5 – Rashed Al-Tayer (UAE)/Majed Al-Mansoori (UAE) 60pts
3. The Blue Roo (Team Australia) 8 – Brett Luhrmann (AUS)/Pal-Virik Nilsen (NOR) 48pts
4. Caccia Engineering 22 – Diego Testa (ITA)/Daniele Martignoni (ITA) 38pts
5. 222 Offshore 10 – Giovanni Carpitella (ITA)/Joakhim Kumlin (SWE) 34pts
6. Fujairah Team 20 – Serafino Barlesi (ITA)/Alessandro Barone (ITA) 33pts
7. New Star 9 – Mikhail Kitashev (RUS)/Dmitry Vandyshev (RUS) 25pts
8. Swecat Racing 2 – Mikael Bengtsson (SWE)/Erik Stark (SWE) 22pts
9. Raheeb 17 – Abdullatif Al-Omani (KWT)/Mustafa Al-Dashti (KWT) 15pts
10. Lady Spain 46 – Roberto Lo Piano (ITA)/Andrea Comello (ITA) 10pts
11. Al Wasl 7 – Arif Saif Al-Zafeen (UAE)/Scott Williams (GBR) 9pts