For those unaccustomed with the phrase "short, sharp, shock" it means a punishment that is … severe but only lasts for a short time, which could have described what happened at this year's Poole Bay Classic.
When the race fleet gathered at the Poole Quay Boat Haven on the south coast of England for the second round of the 2022 UKOPRA 'World' Offshore Championship the conditions looked ideal. Blue sky, slight chop, perhaps this Poole Bay Classic was set for another record-breaking duel between the Silverline hull of Drew Langdon and Miles Jennings and their Italian opponents on board Tommy One who pushed them all the way in the opening round.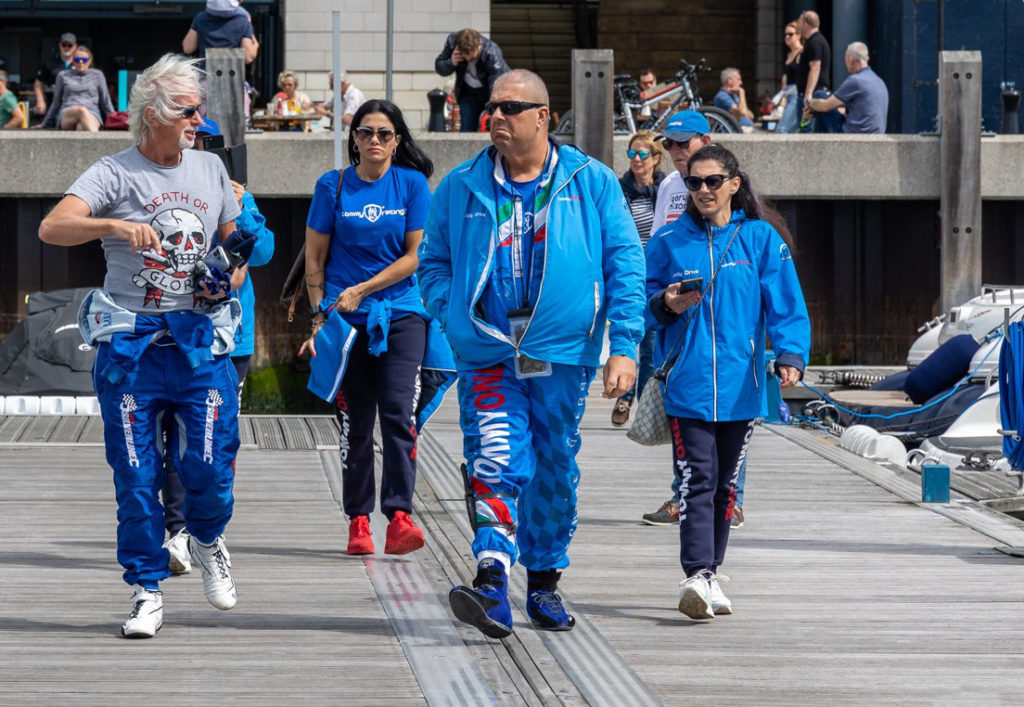 The race got off to an ideal start with Langdon and Jennings hitting the front as most expected, but it wasn't long though before the storm force winds that had hit England's west coast the previous day began to make their presence felt.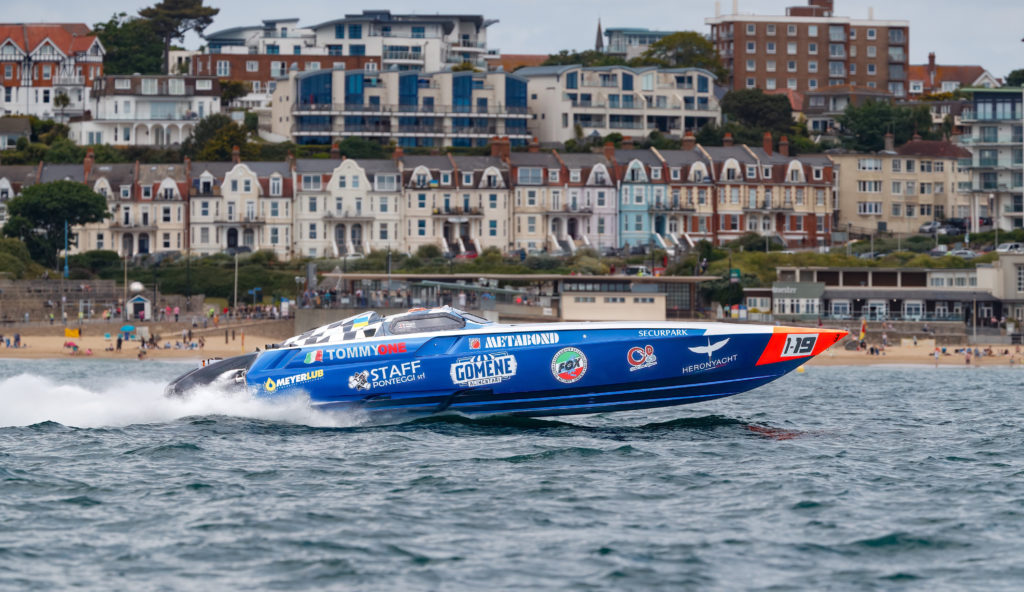 Amongst the first to be affected was Tommy One (1-19) which was launched skywards like a rocket and landed heavily on its stern damaging one of it drives. Fortunately, they were able to limp back to the safety of Poole Harbour but any chance of collecting championship points had gone for the weekend.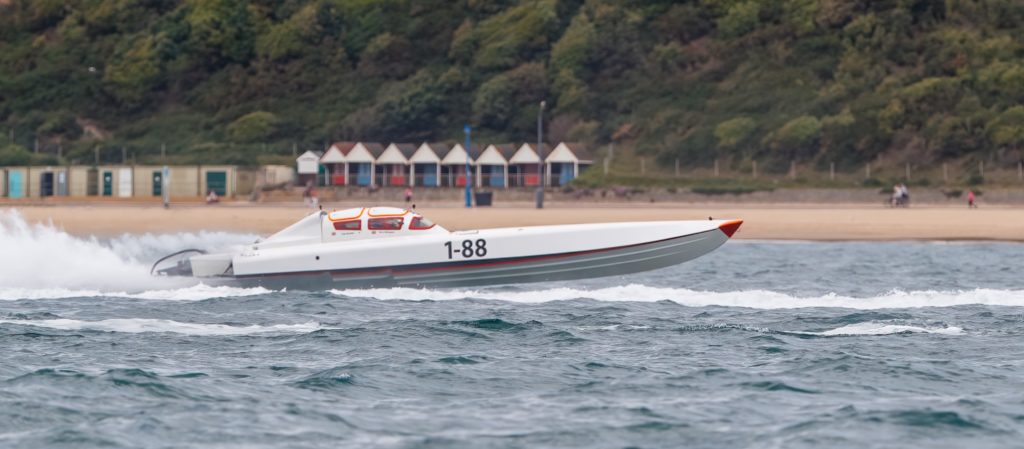 Worse was to come for Gary Aldington and Tom Gardner in their FB Design hull Vintage Torque (1-88).
From running in a strong second place at the halfway point they started taking on water due to major structural damage in the bow. When their three bilge pumps couldn't keep up with the amount of water filling the engine compartment the water pump belt started slipping which caused the temperature to climb and which then melted the rubber pipes on headers, and they lost all power.
The crew of Dry Martini stopped to offer assistance but at that time Aldington and Gardner were confident in making it back to shore after the arrival of two safety boats. Conditions had worsened by then and it looked as if Vintage Torque could have sunk had it not been for the arrival of the Team 25 Dragon Racing crew of Rob Lockyer and Scott Younger who immediately took them under tow. After two hours they both finally and safely arrived back to the Haven.
Racing takes a lot of time and commitment, even with the best efforts it doesn't always go to plan and our weekend definitely didn't. Without the help of our fellow competitors Team 25 Dragon racing Rob Lockyer and Scott we would have lost the boat for sure, they gave up their race and took us under tow for the long haul back to Poole, we can't thank them enough. As a team it had been a great weekend up till then and we are picking up the pieces and pulling the positives out of the situation, we are already digging in to get things fixed up.
With conditions getting worse and with reports that off the Needles it was treacherous conditions the Officer Of the Day Fiona Pascoe, (who had been Assistant OOD before Kerry Bobin had been taken ill) took one look at the online video footage and then made the brave but decisive call to red flag the race as Silverline (1-47) approached the start-finish line off Bournemouth Pier.
Langdon and Jennings were as grateful as Lewis Hamilton was to see the chequered flag being waved, and when PRW spoke to Langdon he said,
A bit bumpy but a lovely day for a trip round the bay.
With that he and Jennings were quickly on their way to Heathrow Airport to catch a flight to the Balearic Islands where their sponsor Silverline were hosting a Gala Dinner.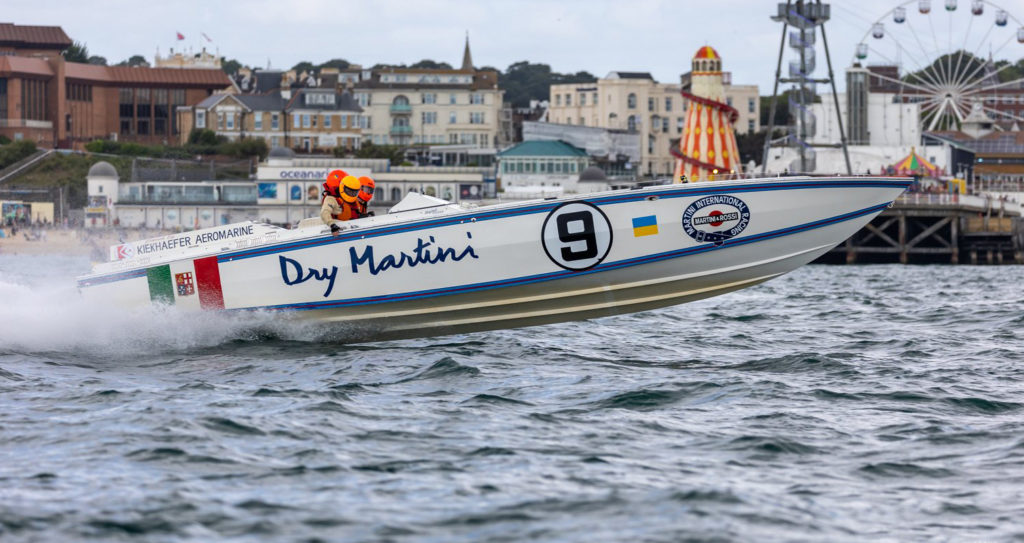 That left the Dry Martini crew of Nigel Hopcroft, Mike Bontoft and Michael Peet to be the solitary team on the podium collecting their Class One runners up trophy. Team 25 Dragon Racing were official classified as third overall.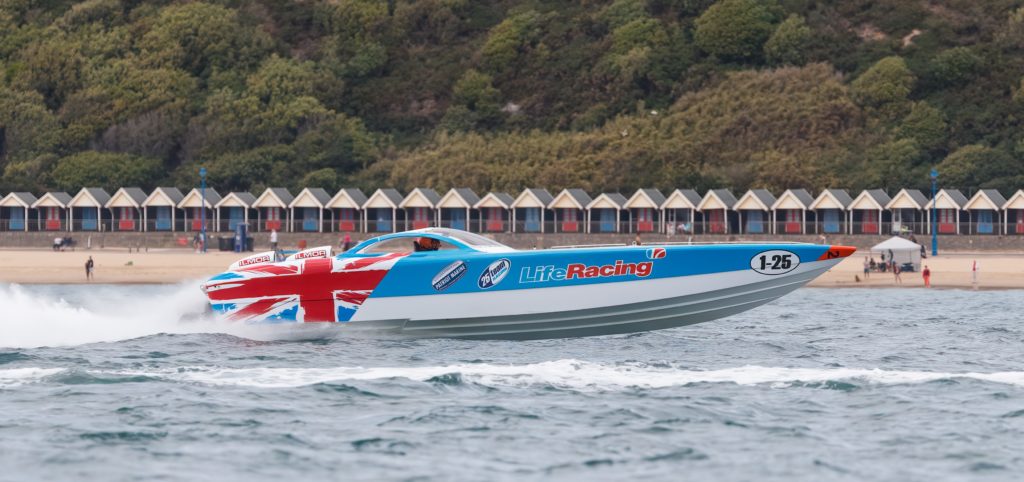 Francis Whitley and Stuart Cureton took the honours in Class Two, whilst Andrew Foster and Charles Morris (D28) came first overall in Class 3D.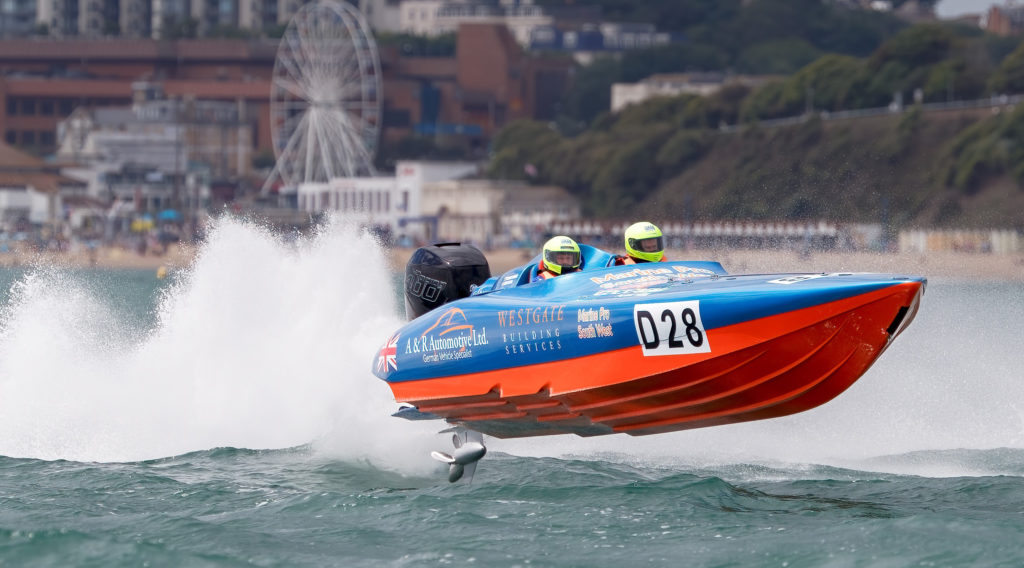 Dennis Clemson and Cameron Shields (C50) produced another reliable performance to win the Class 3C battle.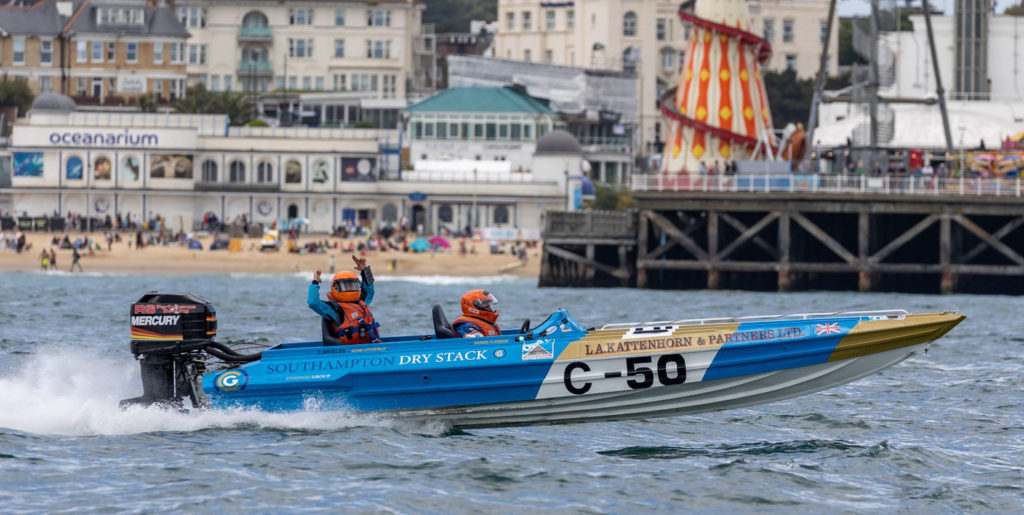 The next round of the 2022 UKOPRA 'World' Offshore Championship will be held in August when the crews head over to the Isle of Wight for the world-famous endurance race that is the Cowes-Torquay-Cowes.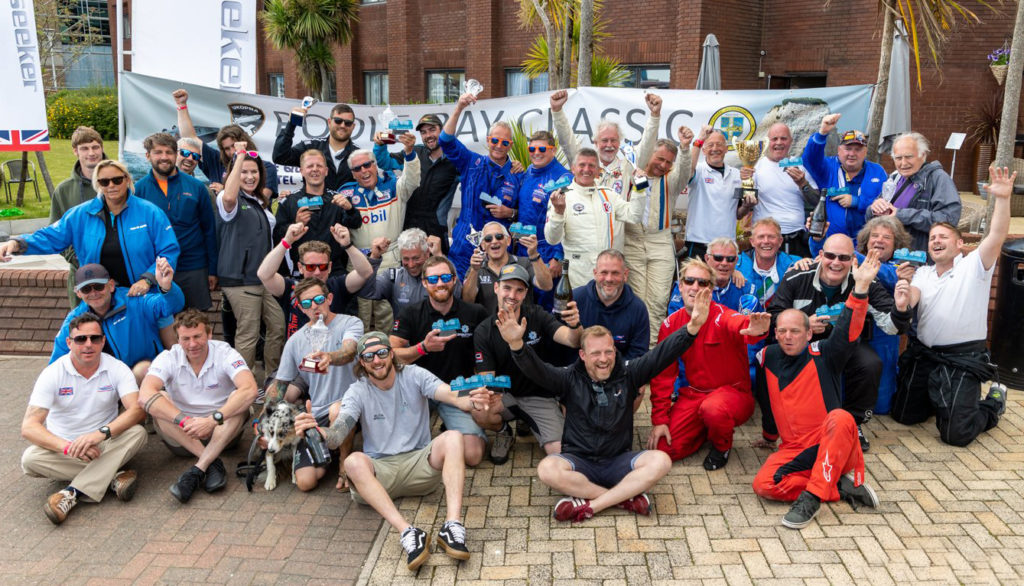 PRW would like to thank Mike Powell for the images supplied, it's good to see him back at a race again after undergoing heart surgery, we understand that it was 'Six Million Dollars' well spent.
Images by Mike Powell and Malc Attrill/UKOPRA