Italian Valentino Basile is now all set for this weekend's opening round of the 2022 UIM Pleasure Navigation World Championship in Benalmádena, Spain, having completely altered his raceboats' interior.
The original layout of the Ocke Mannerfelt design Batboat had a tandem seating arrangement but after several months of arduous work back in Como the team have now adapted it to a parallel formation.
This afternoon Basile told PRW some of the reasons behind the switch.
In adjusting the seating, we have also been able to make many improvements with the aerodynamics which has also improved the balance of the boat, plus it's a lot lighter now.
Basile is a relative newcomer to racing boats but has always been involved in high level sports. At the age of six he started to race MotoX but a bad accident shortly after his eighteenth birthday meant his riding days were over.
Having grown up beside Lake Como he had often seen powerboat in action, so it wasn't long before he started asking about getting into racing one.
One day I met a person who explained to me all about the sport and gave me a boat to try out and I was hooked.
That was three years ago and since then the Italian has tried racing in the Offshore 3D class at a race in Como. When he raced bikes, he would also fix them. Now he's racing boats he also fixes them.
It's my passion to fix modify and improve engines and boats. You learn a great deal when you prepare the boats you race.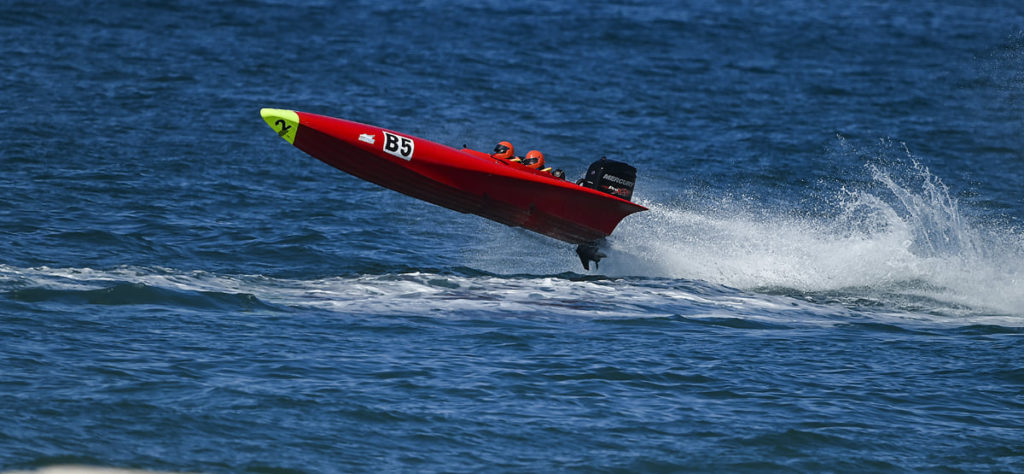 Along with a new seat layout Basile also has a new Navigator, his long-time friend Fabrizio Dal Pozzolo, who he has known for over fifteen years. They struck up a friendship over their shared passion for flying microlights which he does to relax.
We have been flying them since we were sixteen. I went to aviation school to become a pilot, but I moved into real estate instead.
Dal Pozzolo comes with a competitive background having rallied a Renault Clio in the Italian Rally Championship for the last two years. He also tried his hand with bikes competing in the Enduro Championship and then in the Ducati Series.

From his time in a rally car, he is more used to having someone sat alongside him and feels more comfortable with being able to see Basile rather than just hearing him on the intercom. What did surprise him though was the acceleration through the water compared to a pleasure boat which was his only experience on water before teaming up with his friend.
Basile also shares that passion for speed across the water.
When I race on water, I feel alive!
Como photo: Massimo Ciuchi