Reigning Formula Grand Prix British Champion Sam Whittle mastered his new F2 Moore hull at Stewartby with several heat wins in a boat that he had never driven in competition before.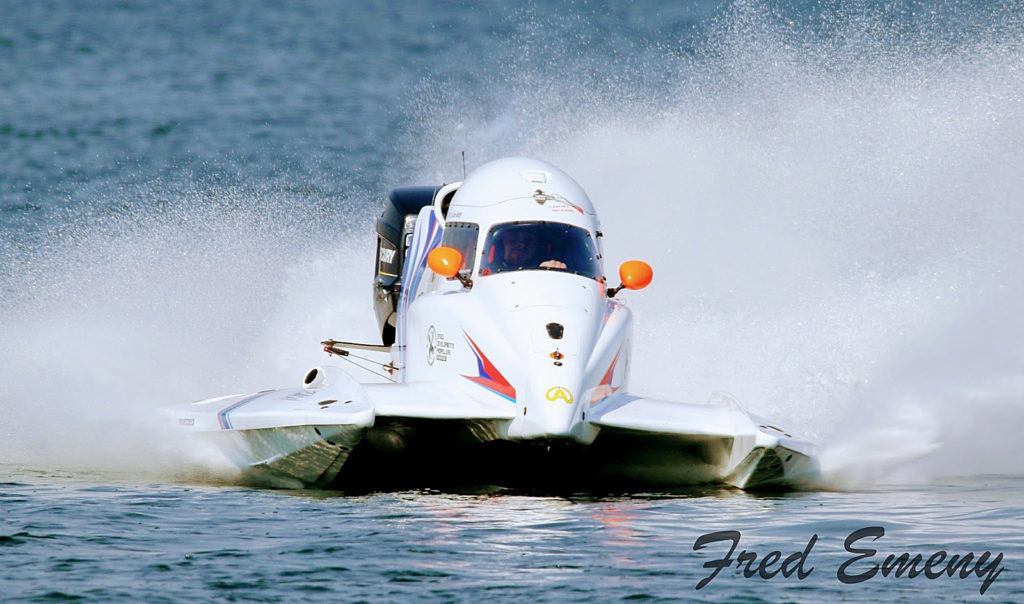 Steering wheel and drum must be secured and locked on the shaft, the unit must be through bolted and locked to the dash panel or steering mount bar.
In the CPA memo it mentioned that this rule had recently been the subject of much discussion, and they concluded that this rule does NOT specify how the steering drum shall be fixed to the shaft.
They went on to say that as a scrutineer it is their duty to enforce compliance with the rules and not to tell competitors how to put together their rigs. To enforce compliance with rule 9.1 a scrutineer shall.
Check steering wheel and drum are secured and locked to the shaft and have no unusual play or movement in any direction
 2. Check for movement as above against a load. i.e. turn against full lock or someone holding the motor in a static position.
 3. Ensure the steering unit as a whole system is securely bolted and locked through either the dashboard (Formula boat or GT mono typical) or a steering mount bar (T850 typical).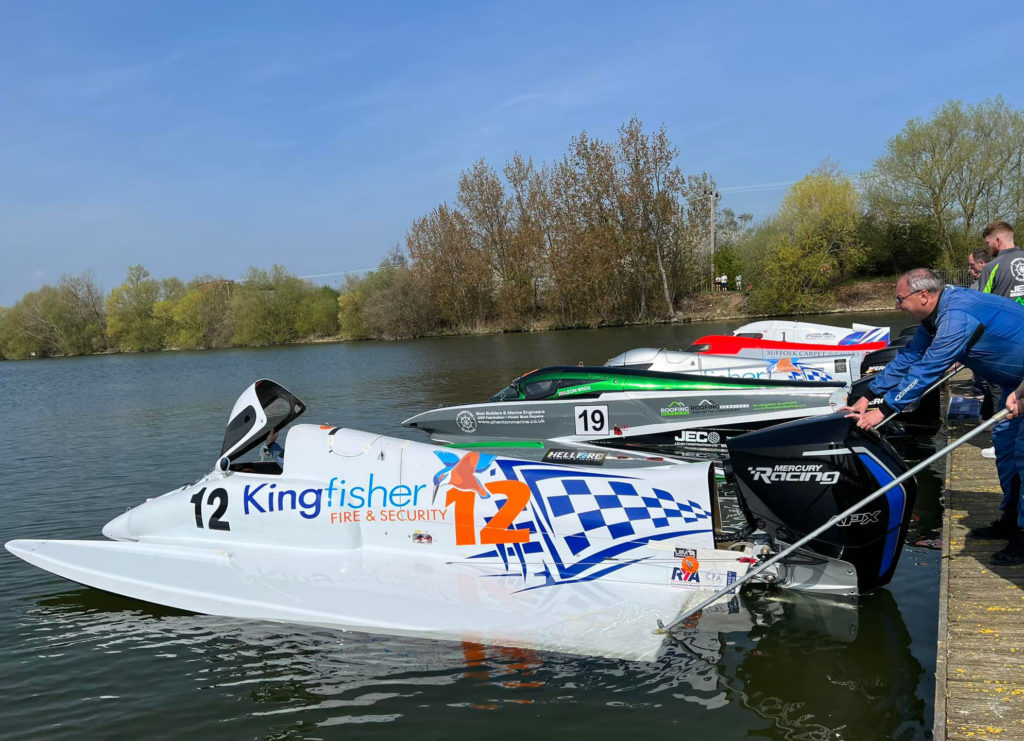 With all the boats now successfully passing through Scrutineering it was suggested by OOD Jeni Jelf that rather than hold several twenty-minute test sessions they should have a series of six-minute heats to try and replicate a more realistic race environment. This would include jetty starts, some of which would be reversed. Even though there were only five F2's in the class they were lined up as if they were in race conditions, which resulted in a tense situation in Heat Two. It would also see, for the first time outside of America a Mercury Optimax lining up alongside the all-new 200 APX.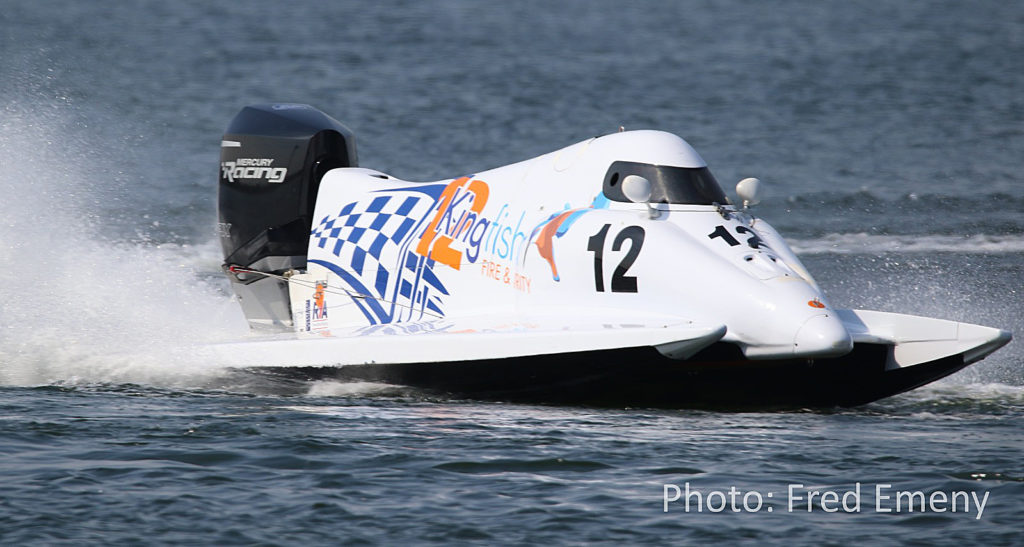 Ben Jelf had the honour of testing, or should that be taming the new beast which was fitted to one of Jelf Racing's Molgaard hull. It was perhaps not the ideal testbed for a driver that has limited experience of racing F2 but fair play to him as even though the APX didn't look 'comfortable' on the transom, the young driver kept it the right way up throughout the weekend.
The team stated that
Steady progress being made, not here to win, here to learn – every day is a school day.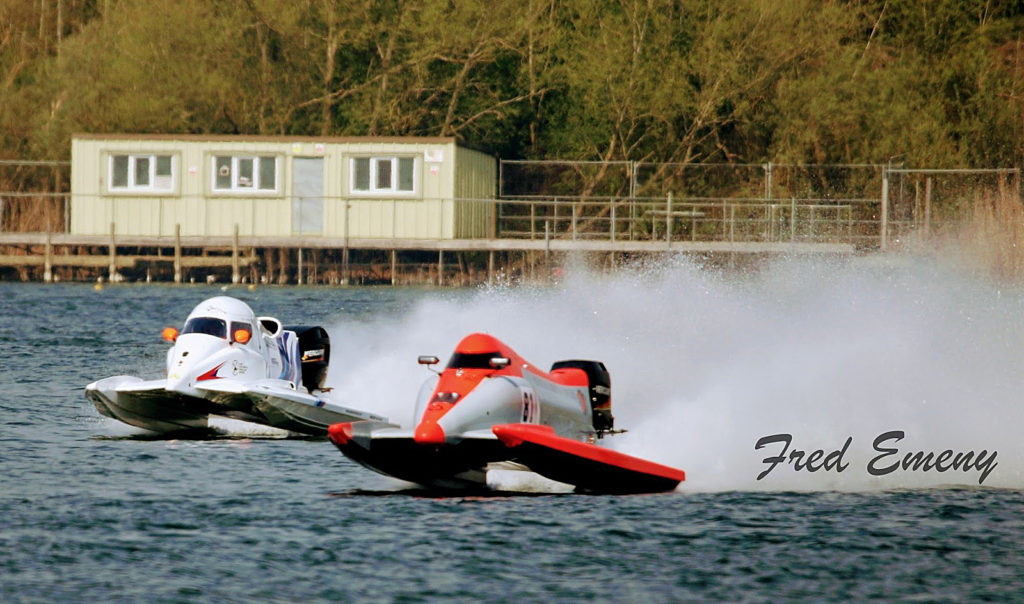 For Whittle, the weekend was a positive one with him looking very 'at home' in the ex-Robin Stoddard Moore hull. During Heat One he was left behind at the start line when his Optimax failed to start, but when he gets the bit between his teeth there's no stopping him and he would eventually catch and pass all those ahead of him. At times, the boat looked like it was running on rails due to the benign water conditions on Saturday.
With a strong breeze the following day and Colin Jelf back on the water Whittle faced a sterner test and the team were certainly not disappointed with how he faired against the three times F2 World Champion.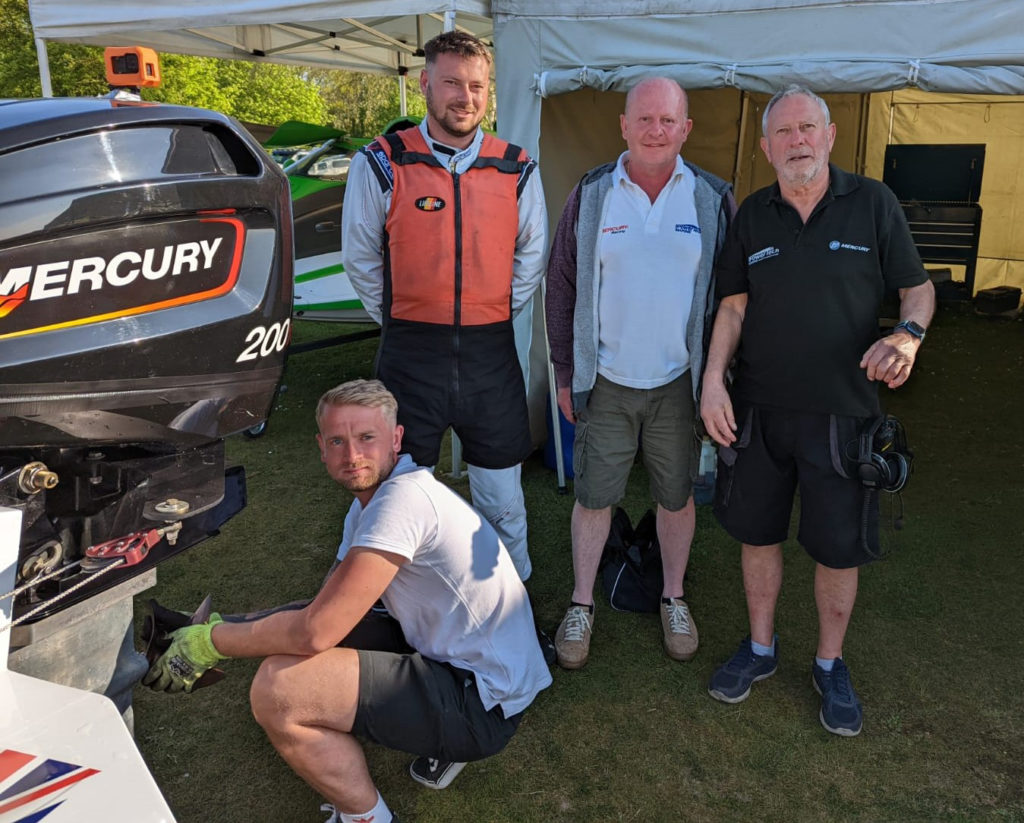 A delighted Keith Whittle said
We tried more props during this weekend then we did for the whole of last year. I am relieved that the steering rule issue was resolved as it means we can concentrate on getting Sam up to speed with the Moore. It was interesting to finally see an APX up close, sure there is potential there, but it certainly requires a lot more development.
Amongst the other racers attending the weekend was Jamie Elmy competing in the OSY400 category. Unfortunately for the Oulton Broad Powerboat Racing driver his mosquito hull took off and left him in the lake. Fortunately for Elmy, once the race doctors had checked him over and he was able to continue.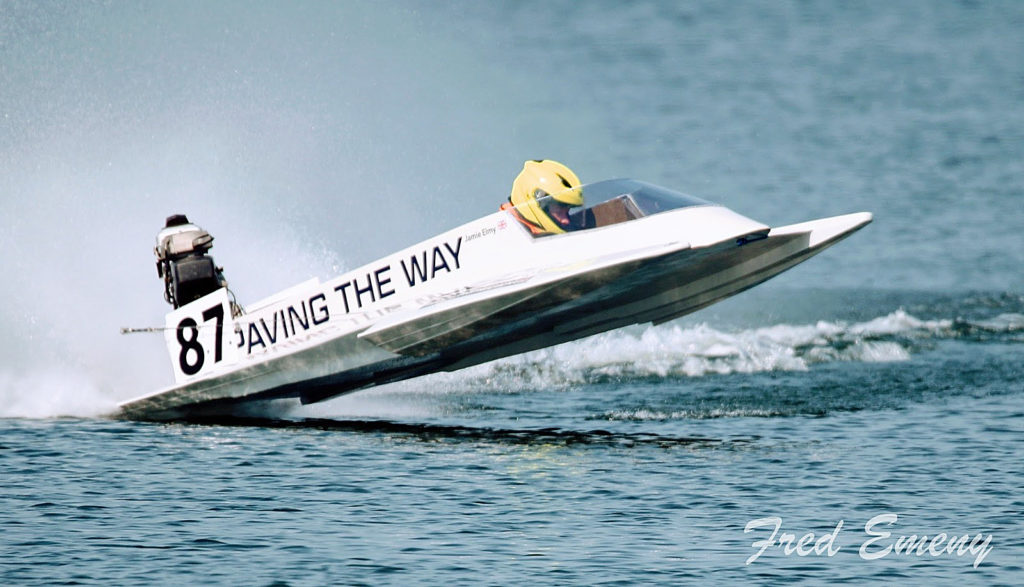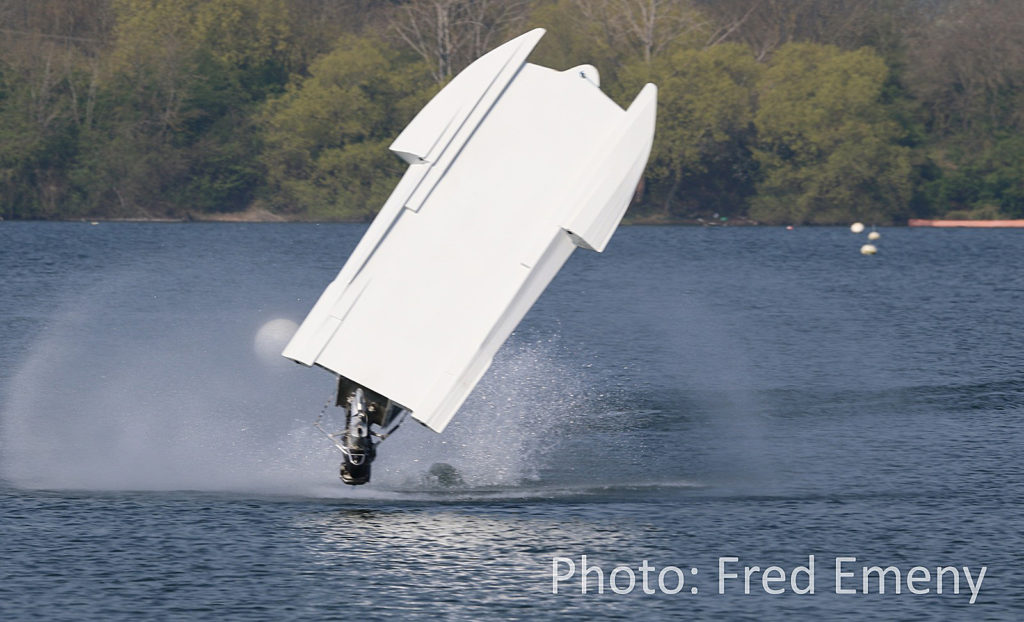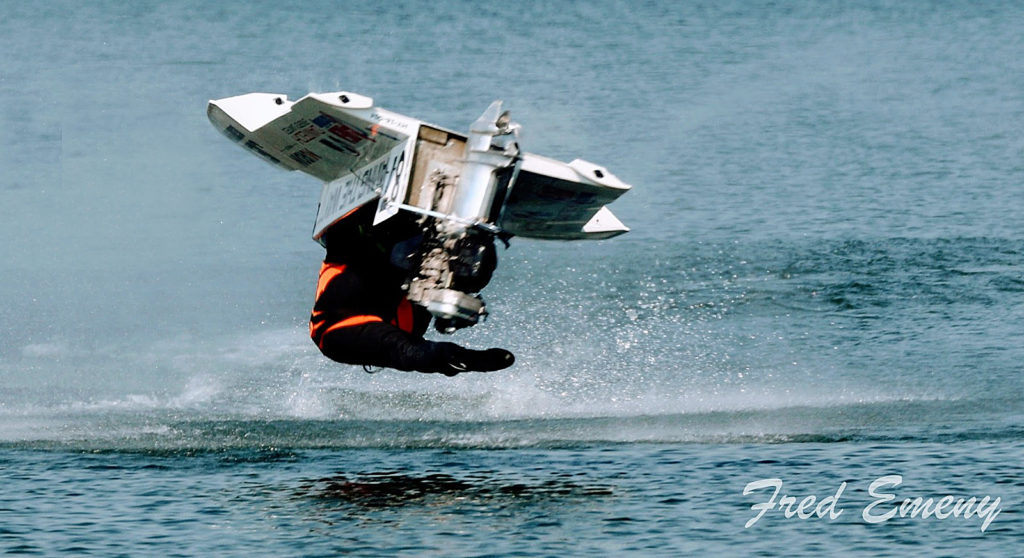 Putting in a superb performance in only her second outing was Elise Walker.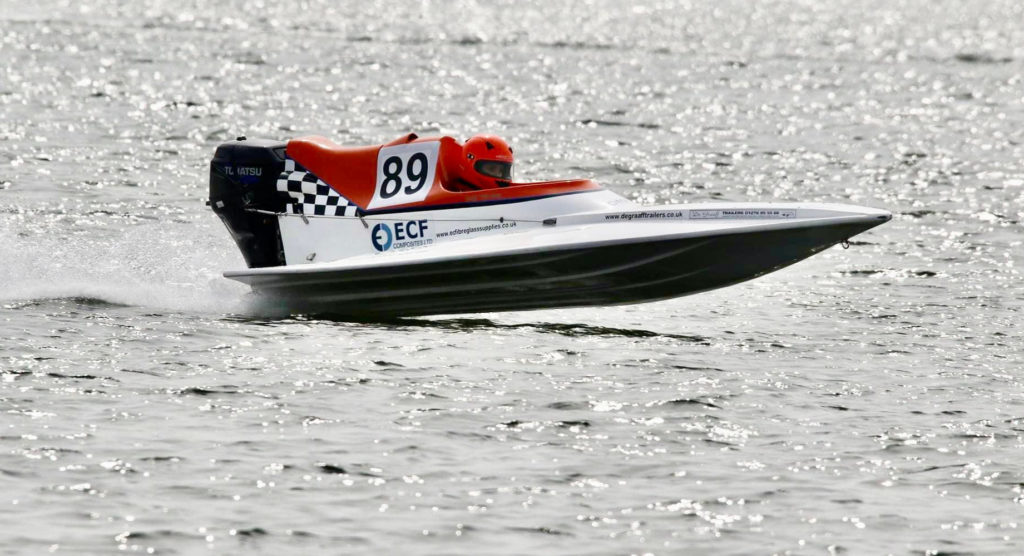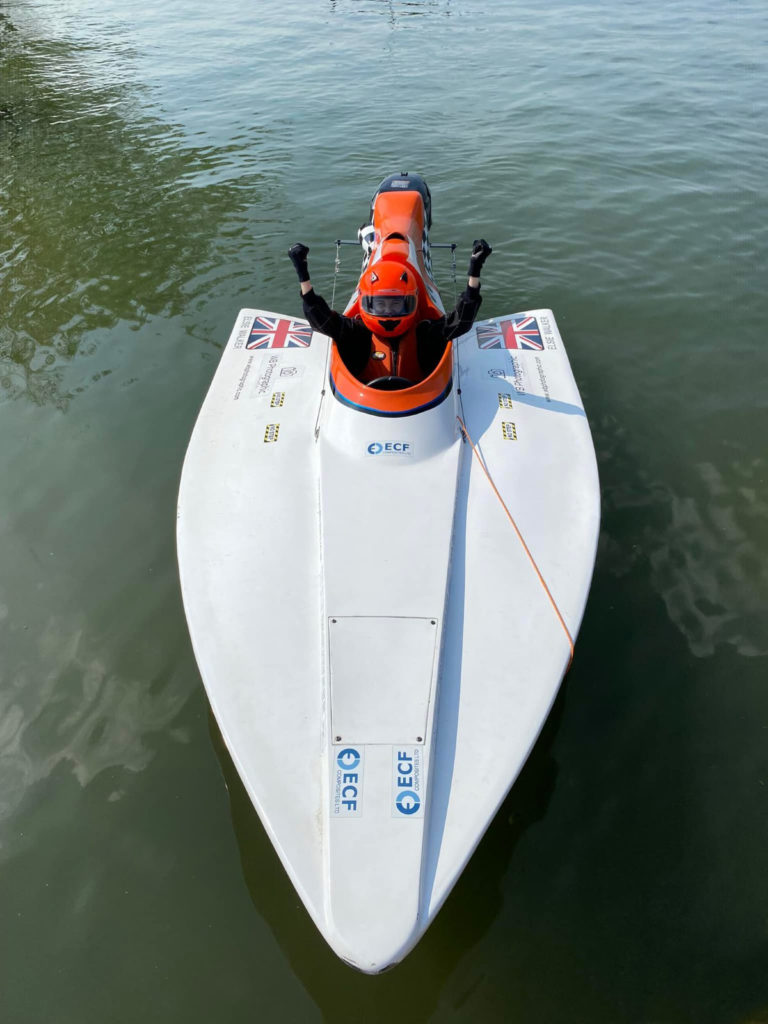 Having recently purchased Jamie Atlee's GT15, she has taken to racing like a duck to water and proceeded to beat Atlee in both of Saturday's heats.
Regularly lapping the course at sub one minute will be huge boost to her confidence and bodes well for the future.
Perhaps it shouldn't surprise many on how well she taken to the sport as she is the daughter of Max Walker who will be racing again in the Aqua Adrenaline series, the first round of which takes place in Torquay later this month.
Walker still owns the six litre Ocke Mannerfelt Batboat, which he says will soon be back on the international circuit.