Australian based Maritimo Racing is headed into its busiest year ever with new boats, upgraded designs and motors.
They have a goal to take out at least two Australian Championships and the World Championships at Key West later in the year.
The team won the Australian Offshore Superboat series' Supercat Extreme category last year, but after issues did not place at the World Championships.
This year they aim to be on top of the podium at events from Bowen in North Queensland to Key West in the USA running three individual boats.
Race team manager and engine builder Kurt Davies said the team has an action packed year ahead.
He said Maritimo would be running three boats in the Australian Offshore Superboat Series including one new boat and two reconfigured boats. The series starts in July and there will be races in Bowen, Mackay, Coffs Harbour, Gosford, Lake Macquarie and Hervey Bay.
"We will use the Australian series to test the boat that we will be taking to Key West for the world championships," said Davies.
"The boat we take to Key West will be shipped at the end of September and it will compete in the Superboat Unlimited category. Here in Australia it run in its own class, giving us time to test it and make fine adjustments before it goes to the States."
Maritimo Offshore Racing's Ross Willaton said the Unlimited Category boat was a 44 footer running two Maritimo designed 2000 horsepower motors.
"Depending on the conditions this boat is capable of in excess of 200 miles per hour and we think that by having the chance to run it in the Australian series we will be pretty well set up for the World Championships in Key West," he said.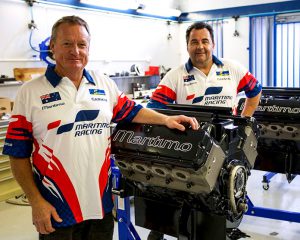 "We did not have a good showing at the Worlds in Key West last year and that was largely because we did not have enough time to test and refine our competing boat before it left Australia.
"This year is different and by using the Australian series to test our boats we will have plenty of opportunity to refine and improve on our performance."
Willaton and Travis Thompson will race the Unlimited Category boat in two rounds of the Australian series, and depending on timing possibly a third at Coffs Harbour, before it heads to the World Championships.
Ross Willaton's son, Andrew and throttleman Andrew Searle will also compete in the other boats in the Australian series.
"We have a very big year ahead of us, but we keep the team small and tight," he said.
"And with people like Travis and the two Andrews working with Kurt on their individual boats they not only have a better understanding of how it all works, but if something does go wrong racing they are a chance to get up and running again or at least can provide valuable feedback to Kurt on what happened."
Davies and Willaton said Maritimo's founder, Bill Barry-Cotter was heavily involved in the race team and the design and construction of the race boats.
They said Barry-Cotter had a lot of input into what the team does to the boats like the all important engine configurations.
"We have the capability of reaching speeds up to 220 miles per hour, but in a racing environment we would normally be looking at reaching speeds of 180 miles per hour in the first few laps and then settling back to around averaging 160 miles per hour depending on how hard the competition is running," said Davies.
"The race boats are exposed to some of the highest stresses in motor racing and because the races in Key West are run over a whole week we try to race as hard as we need to but with double points up for grabs on the last race it's important to keep the boats competitive all week.
"With Bill heavily involved in the decision making, we have intense discussions on how we can maximise our engine performance." The race team designs, builds and tunes all the race engines in house".
Maritimo Sales and Marketing Manager Greg Haines said the experience gained at the coal face of international offshore racing was invaluable in the design and performance of the company's production cruisers.
"No other Australian manufacturer, and actually very few internationally, have the benefit of the learnings we gain from serious offshore racing which can be ultimately be inbuilt into our production boats," he said.
Maritimo Offshore Racing is also heavily involved in the preparation of the Gold Coast Australia Xcat boat that is competing in the World XCAT Series. This race boat is outboard powered and driven by Tom Barry-Cotter.