Leading insurance company unveils plans for 2023 powerboat racing season in partnership with P1 Offshore and Class 1
International marine motorsport promoter Powerboat P1 and leading insurance broker XINSURANCE have jointly announced plans for the second year of their three-year partnership. Established more than 40 years ago in Sandy, Utah and regarded as an industry innovator offering customized speciality liability insurance for businesses and individuals, XINSURANCE is an Official Partner of Powerboat P1 and UIM Class 1 offshore racing.
An exciting element of the sponsorship is that Powerboat P1 is able to use the primary seat in the A-Star XINSURANCE helicopter, designated the Official Broadcast Helicopter, for filming and live streaming at offshore races across the 2023 season. The two partners will cross-promote on all social and digital platforms, and the sponsorship provides XINSURANCE with significant branding and activation opportunities at race events together with significant exposure through Bally Sports and CBS Sports Network television broadcasts.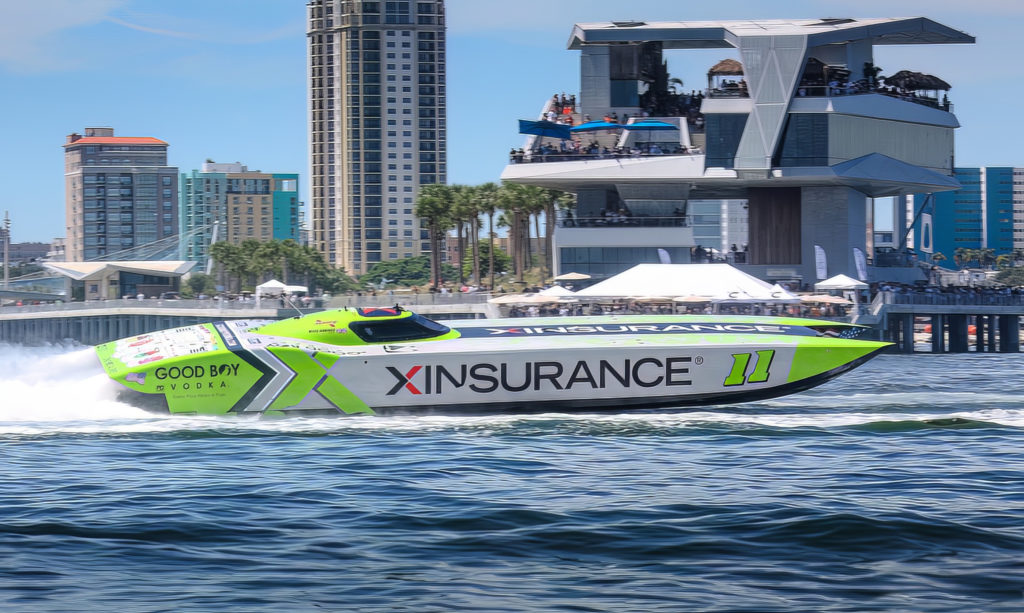 The XINSURANCE name is familiar to powerboat racing fans with the company's name featuring prominently on the side of the 48-foot MTI purpose-built Class 1 boat raced by Alex Pratt and Miles Jennings that also carries the Good Boy Vodka brand name. In March this year, XINSURANCE expanded its company-sponsored offshore racing fleet by announcing that it will be backing the Turk Family Racing team's two bracket class boats, and last month it unveiled a long-term title sponsorship of the Great Lakes Grand Prix in Michigan City.
XINSURANCE adopts a partnership approach to both its business and sponsorship strategy, and has provided coverage for a diverse range of sports, activities, events and athletes. It focuses on providing solutions for speciality risks and the partnership with Powerboat delivers a platform for showcasing its commitment to motorsports events. Rick J. Lindsey, President and CEO of XINSURANCE commented:
"This is an exciting time for us to provide support to help build, showcase and highlight the excitement of P1 Offshore racing that includes the UIM Class 1 World Championship, the pinnacle of the sport. We are looking forward to again working with the P1 team and coordinators around the country who organize and promote these exhilarating events. We are enjoying our successful relationship with Powerboat P1 in a growing market."
Powerboat P1 CEO Azam Rangoonwala said:
"Strategic partnerships play an important role in our business and we will continue to work closely with the XINSURANCE team to help them meet their business objectives. Rick's passion for, and understanding of, marine motorsports shines through in everything his company does and the XINSURANCE helicopter certainly makes this a high flying sponsorship."
The countdown is underway to next week's opening Powerboat P1 race event of the season (May 18-21) at Cocoa Beach on Florida's Space Coast.