After an impressive performance twenty-four hours earlier to secure pole position, Rashed Al Tayer and Majed Al Mansoori in Abu Dhabi 5 looked to have made the ideal start to this year's penultimate heat at the XCAT Grand Prix of Dubai, but the Dubai Police team had other ideas.
For this race, the UIM XCat Officials had trialled a new start procedure which meant that all the race teams had to approach in a perfect line abreast formation two yellow marker buoys that formed a gate at a reduced speed following the Pace-Cat. This would then allow the Officials to record whether any of them had 'jumped' the start as they went through that gate. At first it was thought that the Victory Team had done just that and were given a sixty second penalty following the race finish. Once all the footage had been analysed that penalty was later removed. Victory Teams Erik Stark thought he had made a perfect start.
If we could not win the race today, then at least we could say that we won the start line battle as we judge our approach speed to almost perfection.
Tomaso Polli and Matteo Nicolini, who had qualified in third place were left wondering about this new procedure.
'Why evaluate a new system when there is an ongoing battle for the world title' said Polli.
'After the start I thought we would be challenging the teams around us that had posted similar times in the pole position runs, but to my surprise we had teams from further down the grid already in front on us. In my opinion it was a catastrophic idea.'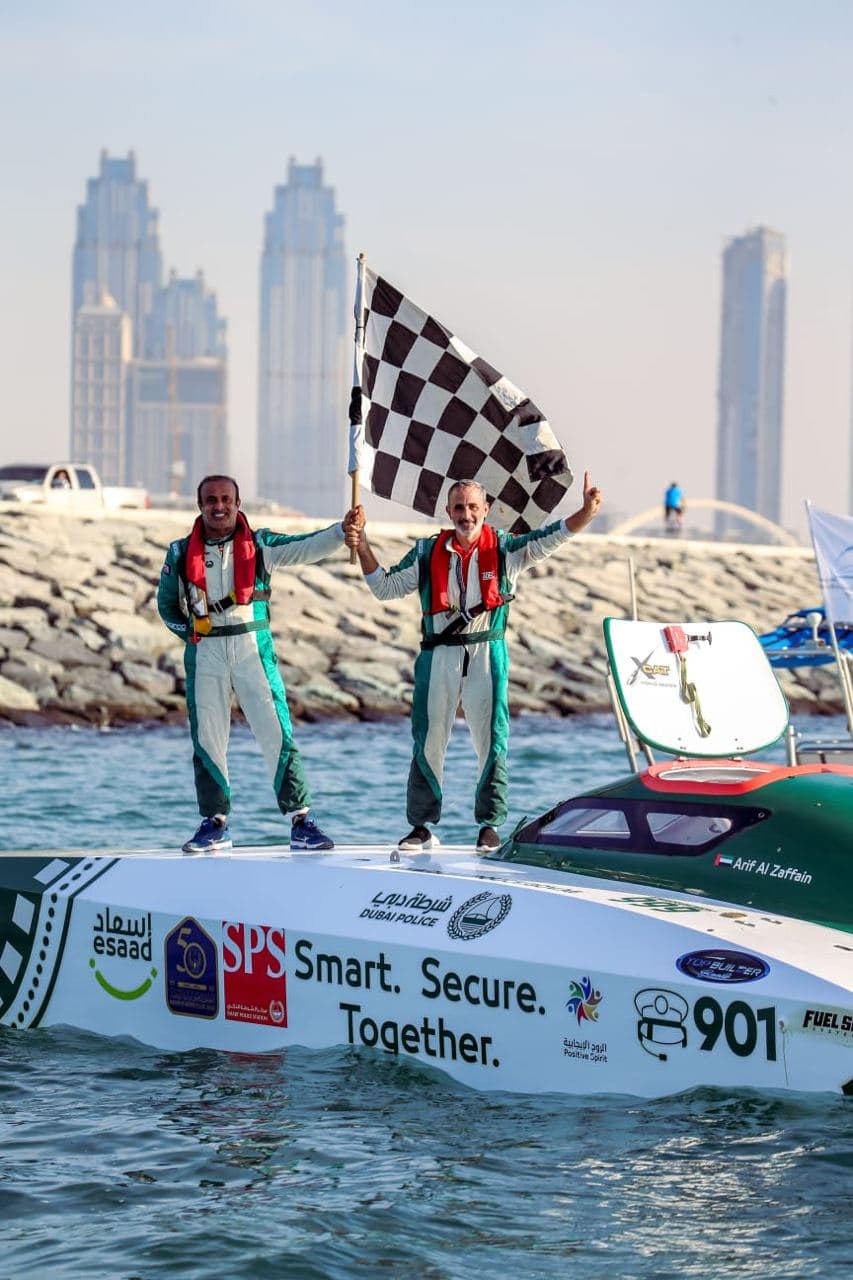 Meanwhile, Abu Dhabi 5 had started to pull away from Arif Al Zaffain and Nadir Bin Hendi in Dubai Police, whilst their team-mates Shaun Torrente and Faleh Al Mansoori in Abu Dhabi 4 decided to take a different approach.
We took our long lap immediately from the start
said Torrente, 'and once we were in clear water we could run faster laps. Then once everyone else had taken their long laps they were behind us because of the quicker lap times we had been able to post.
'Our team manger made a great decision on when we should take the long lap' said Al Zaffain. 'We took it after lap eight. That left us with calmer water to race on allowing us to close the gap to Abu Dhabi 5 after they had taken their long lap.'
Then as the leaders approached the turn mark in front of the VIP grandstand they went wide and the Dubai Police crew surged through on the inside to take a decisive lead, one which they never looked like conceding over the remaining nine laps.
It was exactly that strategy that the Dubai Police team chose to take as they looked at a way to close the gap to the race leaders.
'Things started well, but Al Zaffain and Nadir Bin Hendi used a bigger propeller which gave them more speed' said Al Tayer. 'For us now, the aim is to go for pole position and then try and win the race. We'll fight to the finish'
Amongst those team that were hoping to score some valuable points in the championship were Team GB. Buoyed on by their excellent fifth place in the pole position their day started well after they managed to better their previous day's lap time by over two seconds. Having made a great start they found themselves right in the middle of the pack after the opening lap. But, then on the seventh lap they spun out on the top turn mark.
At this high level one mistake like that is so very costly
said Scott Williams. 'Fortunately, the boat stayed upright but it dropped us back to tenth place.'
Then to make maters worse they hit a buoy so had to do a penalty lap and just when their day couldn't get any worse one of their Mercury engines lost power as they limped across the line.
Also having a day to forget were the 222 Offshore crew of Giovanni Carpitella and Darren Nicholson. 'We qualified ninth, so we started in ninth and we finished in ninth' said Carpitella 'and now one of the engines is down approximately fifty horse power, let's see what pole positions brings.' Their opening victory at the Fujairah Grand Prix must now seem like a life time ago.
Winning by twenty-six seconds from Abu Dhabi 5, Al Zaffain and Bin Hendi now take an eighteen-point lead into the final heat and barring any unforeseen disasters are poised to be crowned 2021 XCAT World Champions. So what is the Dubai Police teams race strategy?
It's simple' said Al Zaffain 'we have to win tomorrow because Sheik Mohammed will not accept anything other than a race win and an sha' allah we will deliver.
The concluding day in the 2021 XCat UIM World Championship gets under way with the morning official practice session followed by the Pole Position battle around the 3.56 nautical mile course. That will be followed later on by the final Grand Prix race of the season which could still produce some surprises.