Rashed Al Tayer and Majed Al Mansoori from Team Abu Dhabi took a significant step forward in their bid to capture the 2021 UIM XCAT World Championship when they posted the fastest lap to secure the crucial pole position for Race One at the Dubai Grand Prix.
'That was just what we needed,' said Al Tayer. '
We gave it everything and got the result we wanted. Now, all we are thinking about is to get maximum points in the race to keep the championship alive.'
Al Tayer and Al Mansoori in Abu Dhabi 5, who were also fastest in the mornings official practice session, edged out the Dubai Police crew of Arif Al Zaffain and Nadir Bin Hendi by a tenth of a second and will now have a huge advantage for the first of the back-to-back Grand Prix that will decide this year's shortened XCAT championship.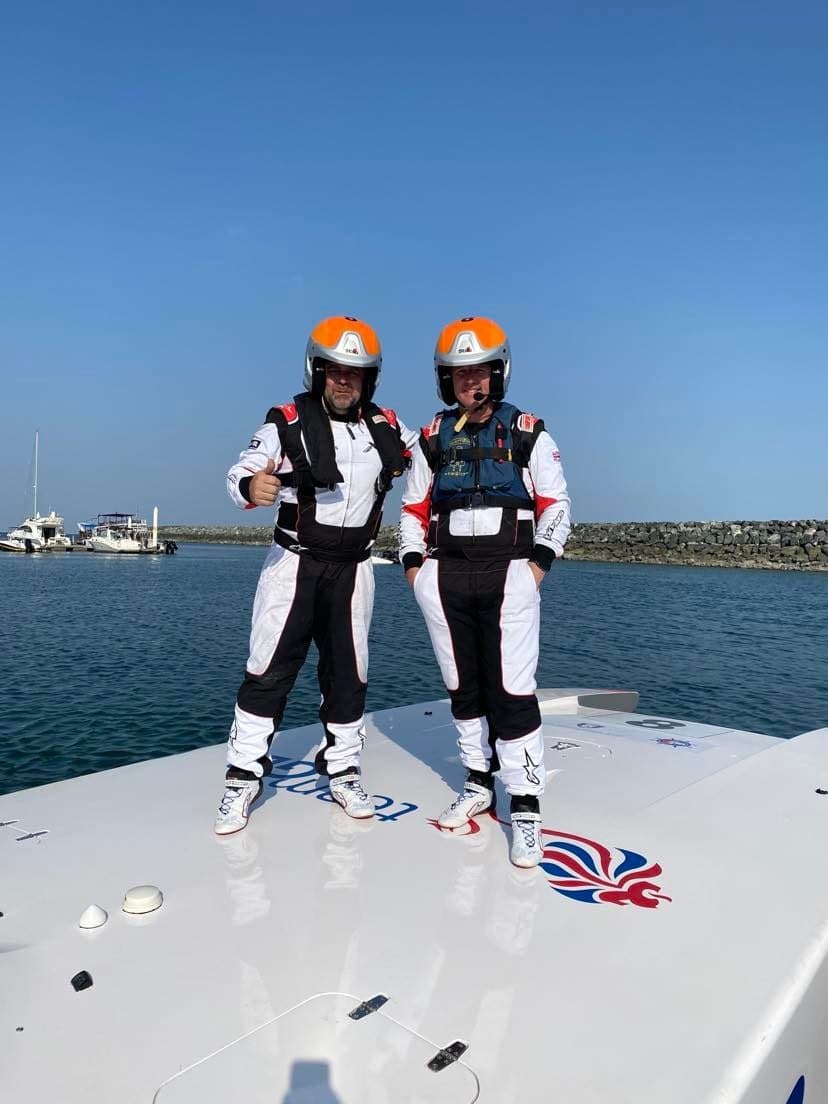 After setting the third fastest qualifying time, Rosario, and Giuseppe Schiano Di Cola in HPI Racing were disqualified for exceeding the permitted number of two laps, so this promoted Tomaso Polli and Matteo Nicolini in Six up to third on the grid.
Starting along side the Italians will be Shaun Torrente and Faleh Al Mansoori in Abu Dhabi 4. The 2018 XCAT World Champions tried a different set up and Torrente admitted that it was not the right way to go.
'We're still in the hunt' he said 'which is all good.
The mood in the camp is upbeat as pole was the goal.'
If the mood in the Team Abu Dhabi camp was 'upbeat' you can imagine what the atmosphere was like in the Team GB camp when Scott Williams and Martin Campbell posted a time barely three seconds off that of Abu Dhabi 4.
'That was the boost we all needed'
said Team Manager Shelley Jory-Leigh. 'Looking at the performance from the start of last week we always knew this boat was quick. So, it was just a matter of time before the guys got settled in and for Martin to master those corners.'
Rounding out the top six were Erik Stark and Mohamed Alyammahi. The Victory Team racers were docked a lap for straying off the race course during their pole run.
Now Al Zaffain and Nadir Bin Hendi go into the final race weekend of the season leading the World Championship by thirteen points. Any thoughts that the title is heading to the Dubai Police team are firmly on hold as the battle recommences off Sunset Beach.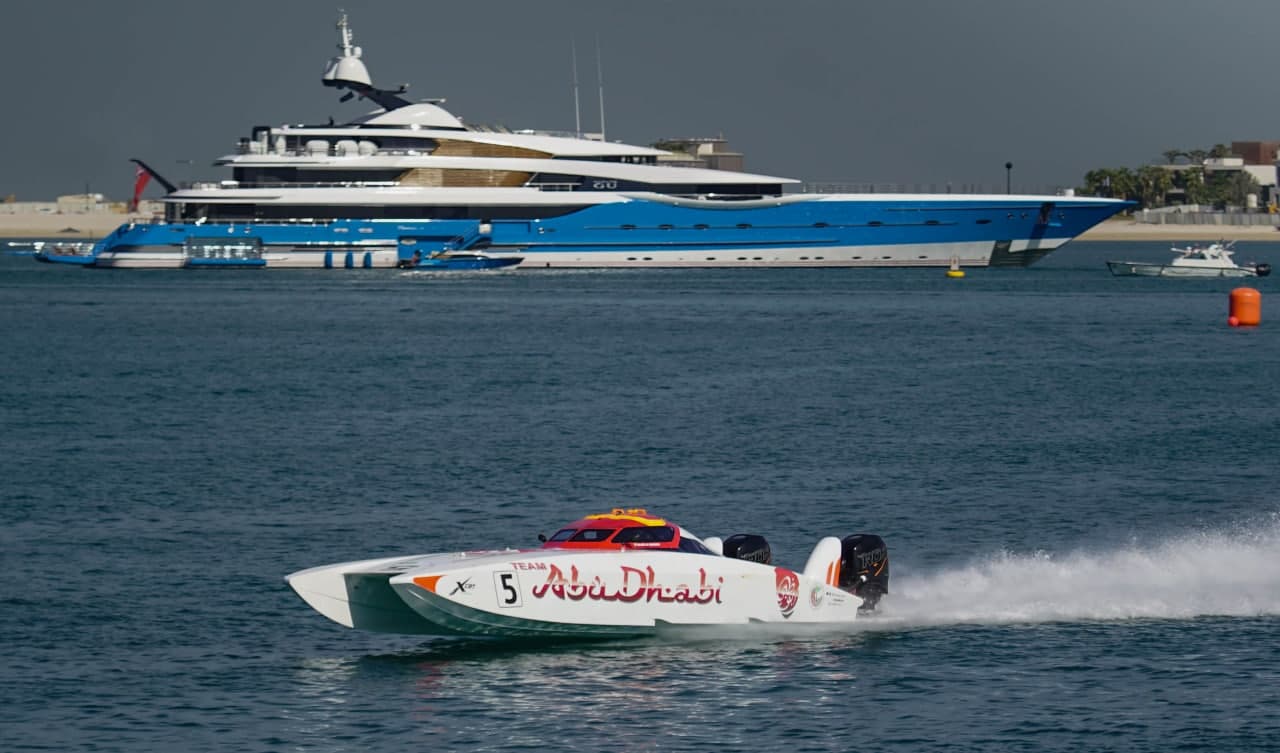 Dubai Grand Prix pole position result:
Abu Dhabi 5 (UAE) Rashed Al Tayer/Majed Al Mansoori 2.30.390
Dubai Police (UAE) Arif Al Zaffain/Nadir Bin Hendi 2.30.490
Six (MC) Tomaso Polli/Matteo Nicolini 2.31.319
Abu Dhabi 4 (UAE) Shaun Torrente/Faleh Al Mansoori 2.31.398
Team GB (UK) Scott Williams/Martin Campbell 2.34.373
Victory Team (UAE) Erik Stark/Mohamed Alyammahi 2.34.519
Foresti E Suardi (IT) Roberto Lo Piano/Giampaolo Montavoci 2.34.761
New Star (RU) Mikhail Kitashev/Dmitry Vandyshev 2.36.577
222 Offshore (IT/AU) Giovanni Carpitella/Darren Nicholson 2.36.689
Kuwait (KW) Abdullatif Al Omani/Moustafa Al Dashti 2.43.165
Pasta Amato (IT) Alfredo Amato/Saul Bubacco 2.49.452
HPI (IT) Rosario Schiano Di Cola/Giuseppe Schiano Di Cola DISQ