Heat 1 of the 2018 UIM Class 3C World Championship was won by Marcus Johnsson and Jussi Myllymäki in Öregrund, Sweden today.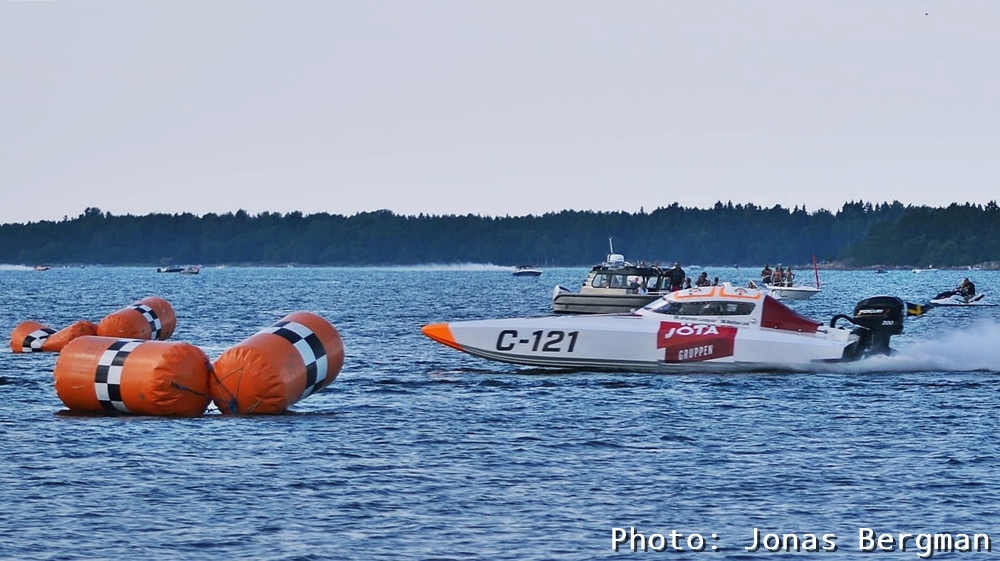 The Finns were joined on the Öregrunds Racerklubb podium by the Swedish teams of Mikael Bengtsson / Rasmus Söderholm and Johannes Lundqvist / Mattias Lind (above).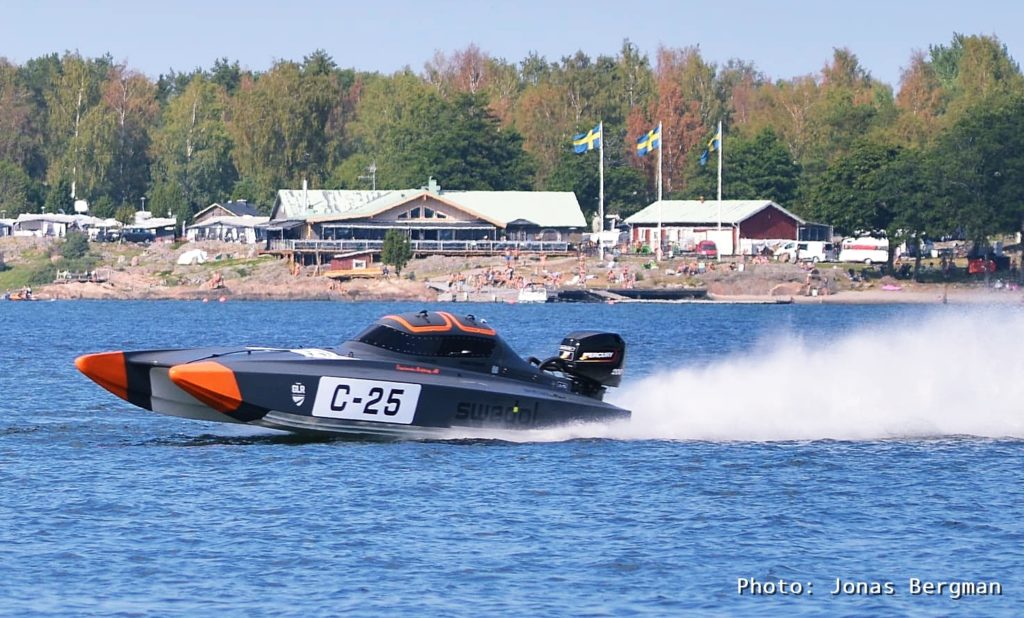 Gustaf Lindèn (above) had his best performance to date in his new 3C Twister cat taking 4th position with his navigator, Kristina Coleman, while the recently crowned UIM 3C European Champions, Erik Sundblad Johansen and Robert Aunvik from Norway finished down in 9th place.
Heat 2 is on Thursday (15:00 CET) and the final heat is due to start at 12.45 on Saturday.
2018 UIM Class 3C World Championship – Heat 1 – Öregrund, Sweden
1st)  Marcus Johnsson and Jussi Myllymäki (FIN) 400 points
2nd) Mikael Bengtsson and Rasmus Söderholm (SWE) 300 points
3rd) Johannes Lundqvist and Mattias Lind (SWE) 225 points
4th) Gustaf Lindèn and Kristina Coleman (SWE) 169 points
5th) Niclas Hallgren and Joakim Blomqvist (FIN) 127 points
6th) Fredrik Groth Fyrö and Philip Björk (SWE) 95 points
7th) Victor Jansson and Sebastian Högberg (SWE) 71 points
8th) Jonas Hansen and Tomas Martinsen (NOR) 53 points
9th) Erik Sundblad Johansen and Robert Aunvik (NOR) 40 points
10th) Geir Jarle Einerkjær and Simen Einerkjær (NOR) 30 points
11th) Inge Lund and Per Anders Bergan (NOR) 22 points
12th) Sebastian Groth and Josefin Due-Boje (SWE) DNF
13th) Thomas Grimsrud and Espen Nomann (NOR) DNF