Bad weather and a lack of medical cover caused delays in Free Practice and ultimately the postponement of Qualifying at yesterday's UIM F2 Campione d'Italia Grand Prix.
Those issues have set up a busy Sunday in Campione, with Free Practice sessions, Qualifying and the Race, all being held today.
What little water action there was yesterday, saw Portugal's Duarte Benavente (above) top the times  in Free Practice Group B ahead of Rupp Temper.
Benavente has recently purchased a French Moore hull from Mette Brandt Bjerknæs and said,
That was a tough session because the water was really rough. I really like racing in the UIM F2 World Championship, it's such a great environment to compete in and as long as the F2 calendar doesn't conflict with the F1H2O one then I will continue racing the entire F2 season.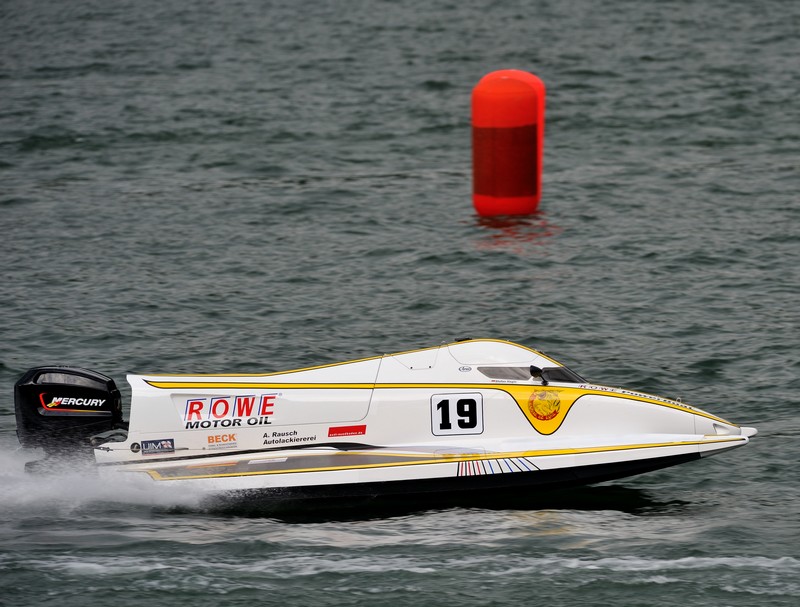 Stefan Hagin (above) was fastest in Free Practice Group B and commented after,
I'm really happy with the way I drove today. It didn't help that we had to come off the water after only fifteen minutes because of the rain storm that certainly upset my rhythm. I think the course was also shorter when we went back out, it certainly was a different one when the drivers in Group B went out, and so it's impossible to compare our times.
Sunday Timetable (All times CET)
Free Practice Group A 09:45 – 10:00
Q1 Qualifying Session Group A 10:00- 10:30
Free Practice Group B 10:45-11:00
Q1 Qualifying Session Group B 11:00-11:30
Q2 Qualifying Session 11:45-12:00
Q3 Qualifying Session 12:15
Elimination Race 14:30
Campione d'Italia Grand Prix 16:30
Photos: F2 Team Association / Chris Davies