F2 Team Association / Chris Davies
It was something that their Viking ancestors never considered.
A small army of Norwegian racers are making their way to the spa resort of Peuruka in central Finland to see if they can plunder the trophy cabinet at the opening round the 2016 UIM F2 World Championship.
For some of them including the likes of Mette Brandt Bjerknaes and Tobias Munthe-Kaas it will be their chance to début brand new raceboats.
Bjerknaes commented,
We have just finished my second test weekend with the new Moore hull. There were some issues with the power steering but hopefully the problem is now solved.
Whilst working alongside the 2015 F2 World Champion, Pierre Lundin, she has gained an incredible amount of race craft during those test sessions.
We have practised a lot together in Sweden, in race type scenarios, where I am either chasing him or he will drive behind me and give me advice on where I should position the boat.
For this season David Moore has designed a new boat especially for Bjerknaes.
Both the cockpit area and sponsons have been built to suit my style of driving. The boat itself is ultra-lightweight, plus there are a few more modifications this time round but those are kept secret. The biggest difference between the old and this new one is the acceleration. It will be exciting to compare the boat to the others in Finland especially when I run the propellers that 'Mr Dynamite' has sent me.
Another driver who can't wait to compare his new boat is Munthe-Kaas. He admitted that he had a mixed 2015 season when it came to results.
When I look back at last year it didn't get off to a great start, but as a driver I feel that I made steady progress throughout the year.
For this season he has a brand new BaBa hull from Italy, a shorter, slightly wider version than the one he last raced.
The team is hoping that with this set up it will give me the acceleration that I lacked. In F2 everyone is using the carefully controlled stock Mercury engine, so you need to find other ways to give you that advantage.
Like Bjerknaes, Munthe-Kaas is also in the enviable position of having an experienced mentor at his disposal, this time in the shape of Marit Stromoy.
Racing for Marit's F2 team brings a little added pressure, she will be on my radio when we race in Norway and as she is a proven race winner that can only be one of those advantages that we are looking for.
Taking a different route when it comes to running a new boat is Pal Virik Nilsen who by his own high standards had a season to forget.
It all looked really good at the start of the year, a new boat plus a new team and some really good testing prior to the opening race in Brindisi, everything looked perfect.
After weeks of testing the team had found the ultimate propeller for him to use but during the first practice session for the Italian Grand Prix the prop shaft snapped and that crucial propeller sank to the bottom of the ocean.
Even though we tried really hard all race weekend we just couldn't get the set up right and to be honest that summed up my whole season. Looking back, yes it was crazy to base your challenge on one propeller, we did try to get a copy made but it didn't work out.
So over the winter he has not just rebuilt his Molgaard hull, he has also rebuilt his team with several new crew members.
It feels like I'm starting over again, everyone thinks that you can go and buy a championship winning boat and race it well but it's a completely different story. People will always take something out or they won't tell you every thing you need to know to make the boat work well but that's just racing, you get nothing for free.
When he's not racing F2, Virik Nilsen can also be found competing on the XCAT World Series,
We were racing last weekend in Lugano, Switzerland and I really thought we were on for a podium finish because we had held third place for a long time and I know we are better than fourth.
When he looked at the race entry for Finland he felt that this year could be the most open yet when it comes to who will take the title.
I like circuit racing but its hard work both on and off the water. I know that I can do well; it's just a matter of all those little things coming together over the race weekend to guarantee success.
Just three weeks prior to Finland, Frode Sundsdal and his EDH Racing Team were putting themselves through the ultimate training camp when they entered the German Championship round held in Brodenbach.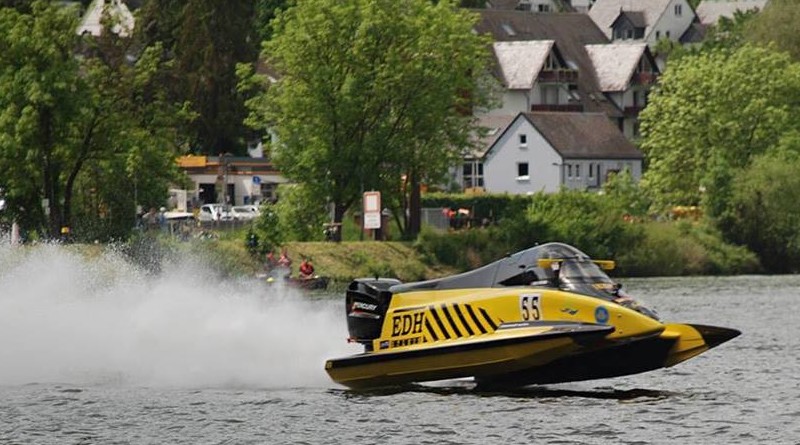 The race weekend has for the last two years acted as a warm up event for several F2 teams, including last seasons third place driver in the F2 world championship, local hero Nick Bisterfeld. A second place in the overall event was way beyond what the team had expected.
Frode Sundsdal told me,
To be honest our goal was to bring the DAC back home to Norway in one piece. I was really happy to win one of the heats, especially when you look at the drivers I was up against, including Stefan Hagin, who was on pole position at the Grand Prix last year in Tonsberg. All the drivers there have a lot more recent seat time than me but that is something we can work on.
Sundsdal also said that the feeling in the team was awesome and just before they left for Finland they met up with the teams sponsors who wished them well.
Naturally they are keen to see us do well but they also realise that it's a long season and are well aware that we are not quite ready for the top step of the podium just yet.
As to who will finish on that top step in Finland come Sunday evening don't be surprised if it's one of the neighbours.