Shaun Torrente claimed victory at the French Grand Prix held in Macon, he was followed home by his team-mate Thani Al Qemzi to make it the perfect start to Team Abu Dhabi's 2022 campaign.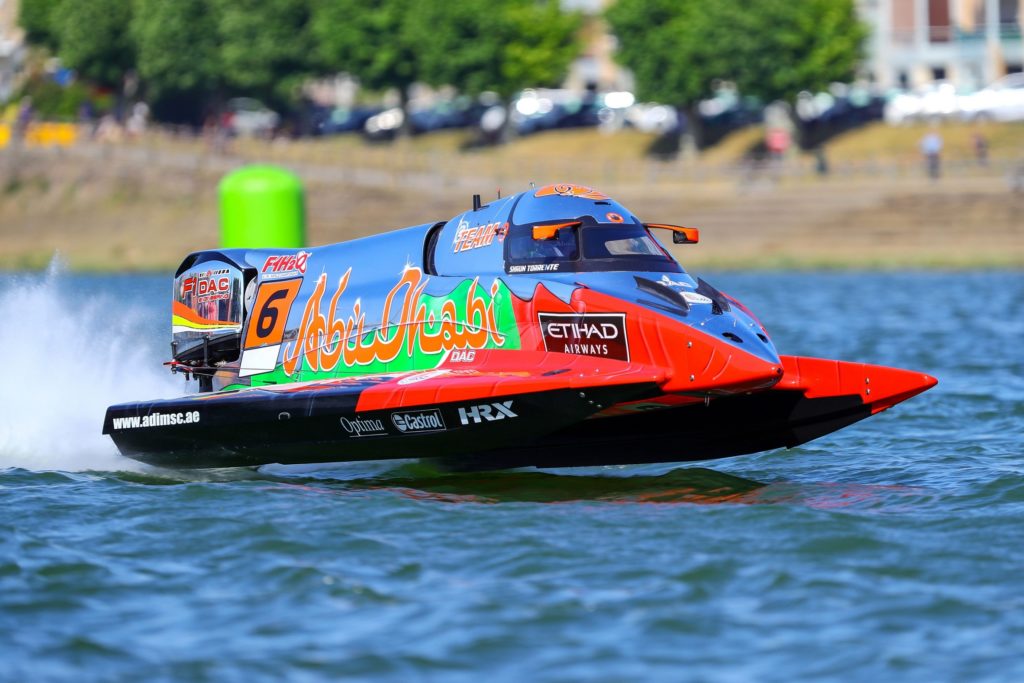 Due to the race taking place on a narrow stretch of the River Saone the Race Officials had decided to choose a 'rolling start' rather than a 'dead engine' pontoon start. After two laps out came the green flag and Seliö sped off into the distance making the clear water ahead of him really count in his favour.
As the race reached the fifteenth lap Team Sharjah's Ferdinand Zandbergen was towed back to the pontoon with electrical problems. Earlier in the day the Dutch racer had gone out to test his BaBa raceboat in Free Practice, this was after the team had worked through the night to replace all the electrics following his crash in yesterday's Q3. Unfortunately, Zandbergen crashed this time without completing a lap. With no time to swap the electrics before the Grand Prix start, he lined up in his grid spot with no realistic chance of completing the full sixty lap race.
When Zandbergen spoke to PRW he said,
My weekend started out great and I was incredibly happy to make it into Q3, but then I was too eager, and barrel rolled on a wave on my first lap. The team worked hard overnight on my boat, for which I'm very thankful for but then in the free practice unfortunately the same happened to me at the other end of the course. Not the way I wanted to start my first F1 season, but I see it as a lesson in gaining experience for the rest of the year.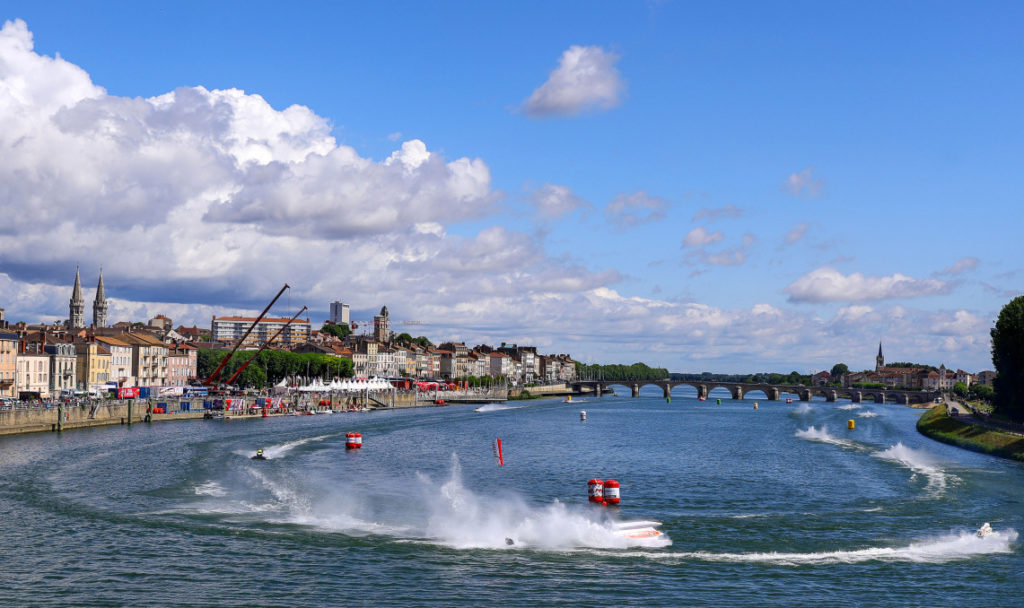 Portugal's Duarte Benavente became the next race casualty when he went out with mechanical problems a lap later.
As the race began to settle down Seliö was maintaining a four second gap between himself and Torrente until lap thirty-seven when the Finn slowed down with a misfiring engine.
When he spoke to PRW the deeply frustrated Seliö said,
This hurts. That came totally unexpectedly, one minute I was comfortably ahead of Torrente, the next my engine was down to four thousand revs and he had passed me.

Throughout the race I didn't really feel any pressure and thought I had everything under control. I had started to put in some good laps time then the stator broke. There was no warning or any sign that this was about to fail and even new one's are not fallible.
Selio's departure saw Torrente move into a lead which he never looked like surrendering.
The result underlined their status as overwhelming favourites for a fifth world team title and suggested that the two team-mates could go on to battle it out to decide this year's individual F1H2O driver's crown.
Peter Morin of the China CTIC Team took third place to become the first Frenchman to secure a podium finish in his home Grand Prix event. Hi team-mate Philippe Chiappe, one of only three drivers in F1H2O history to have claimed a hat-trick of world titles, was another to endure frustration on the day as plummeted down the field with a broken propeller with just ten laps remaining. He quickly came back to the pontoon where his mechanics fitted a new one which allowed Chiappe to head back out and claim ninth place. This was the third propeller that had failed him this weekend.
Finnish rookie Alec Weckstrom finished fourth in Macon from Sweden's reigning F1H2O World Champion, Jonas Andersson, with Norway's Marit Stromoy completing the top six.
Stromoy posted the following,
Not what I dreamed about, but not too bad either. It was a tough and long race of sixty laps in difficult conditions. Both me and my boat got a lot of beating, but we're still in one piece. Valuable World Championship points collected though.
Next stop for the F1H2O World Championship is San Nazzaro, Italy, where back-to-back Grand Prix races take place on the Po River on 16th and 17th July.
This has been a happy hunting ground for Team Abu Dhabi, who have regularly trained and tested there in recent times under Italian powerboat racing legend and Team Manager, Guido Cappellini.
Al Qemzi's took victory there last September and the vastly experienced Emirati driver, who now has thirty-nine career podium finishes to his name as well as eight Grand Prix wins, still passionately believes he can secure a maiden world drivers' title, twenty-two years after entering the F1H2O arena.
He enjoys a unique partnership with Torrente, and while the American would love to grab the world crown for a third time, no-one would be happier if Al Qemzi were to finally come through to take the honours, after five third place finishes, and two runners-up seasons.